Castle Rock, the volcano that spewed lava rock in a mound, became King Edwin's Fort (Gaelic burgh) sometime in the 12th century. The Castle built on and into the perpendicular lava stood a strong defense for centuries.  People have lived on Castle Rock since the Bronze Age, around 850 BC, and there has been a royal castle on the site since at least the 12th century.
We "attacked" the City from the train station, after our 60 minute ride from Glasgow to the west.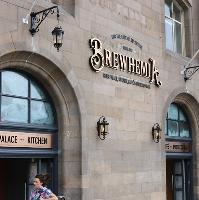 The area around the Waverley Station is accustomed to wheel-bag dragging, hungry travelers, so we found a brew and steak just across the road for our Thursday evening meal. After a brew and some tasty food, a black cab delivered us to Lothian House our VRBO.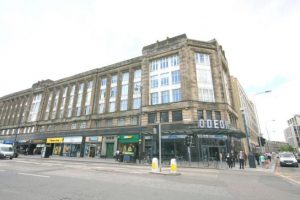 Arriving around 5:30, well past sunset (3:45PM here) and already dark we found our way into the building and connected with the owners for the key and instructions on stuff in the apartment. A nice one bedroom, with separate bath, entrance hall and living/dining/kitchen area was to be our base in Edinburgh for the next week.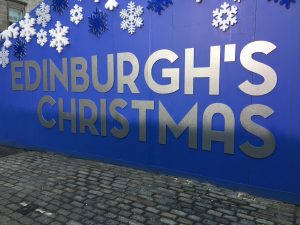 Friday we headed out to get a lay of the land – we had been here in June 2014 so had some idea of the general area but it's Christmas Time and there is a huge Christmas Fair happening in the Park. That night we had dinner reservations for a place we had been while here in 2014 – Mark Greenaway Restaurant (review separately). Chef Greenaway uses local and cultural foods in innovative ways in his tasting menu, and has matching wines to complement his creations. A great way to end our first day in this city.
Saturday, being cloudy both in skies and heads, we decided it would be a laundry, nap, and relax day in our 1930's decorated VRBO apartment.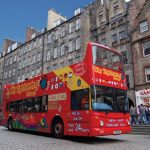 Sunday we purchased the 2 day Hop on Hop off (HoHo) bus pass and sat up top on a clear, sunny, if chilly, tour of the highlights of the City. Stop 1 started at the Christmas Fair, 2 whisked us by our VRBO neighborhood, and we were headed for the hollow of Grassmarket.   Stops 5/6 were bookmarked for return Monday for Castle and Whiskey. Stops 8/9/10 reveal both Georgian tenements and 20th century Parliament architecture of the Royal Mile and culminate at Arthur's Seat, (the other dormant volcanic mount). Stops 12/13/14 found us back at the Waverly Train Station, passing the National Gallery and having crossed Bridge Streets which are engineering marvels, we had come full circle.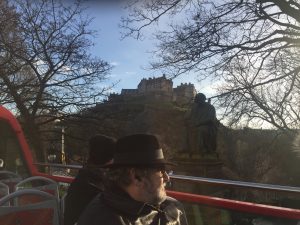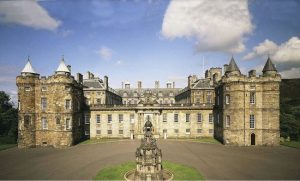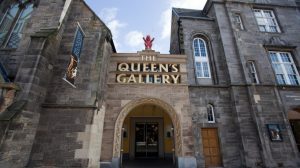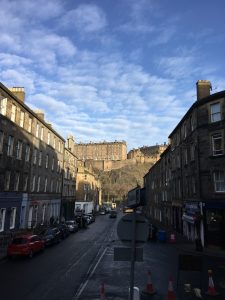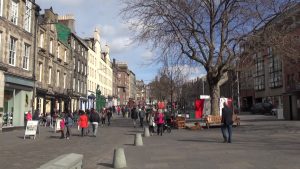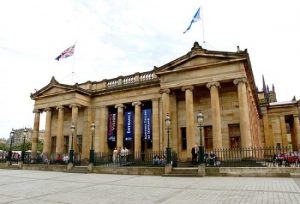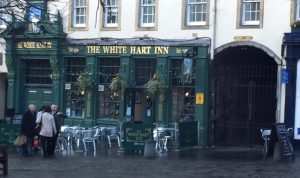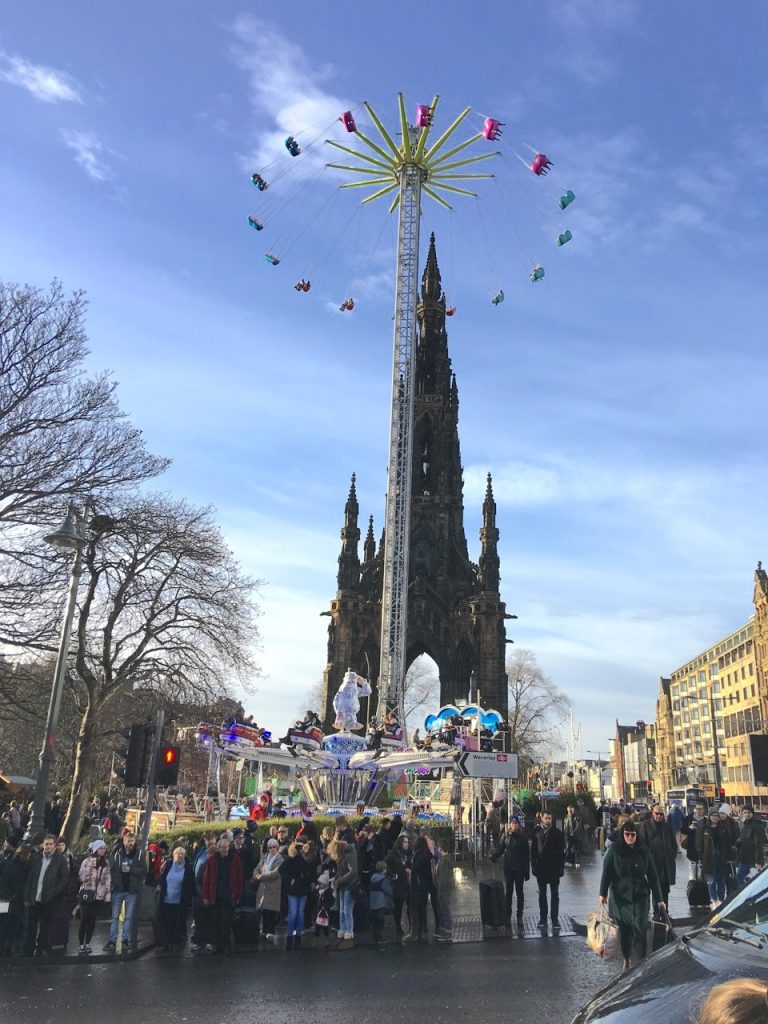 The HoHo bus brought us back to Princes St. ("New "Town, new circa 18th century) and many options for a late meal.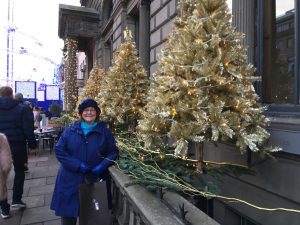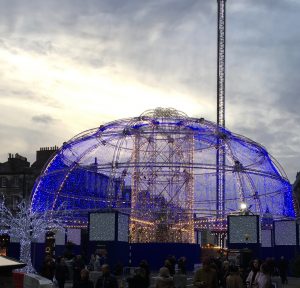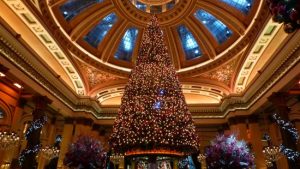 We found the beautifully holiday-decorated restaurant called The Dome and cued up for a bit in the warm, and enjoyed the elegant café lunch (the high tea was completely booked). After our late lunch or early dinner really, we walked through more of the Christmas Market area and back to our apartment