We ended last year in Paris and will do the same thing again this year. Needless to say, the time in between our two visits to Paris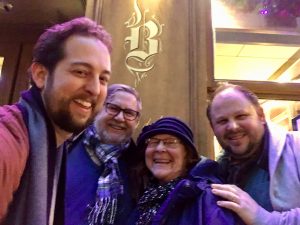 has been FILLED with travel, family, joy and some sadness. What has been planned as a "gap year" of travel has continued a second year. Using our son's home in Springfield VA as our base, we traveled up and down the east coast of the US and Canada, back and forth to Macomb Illinois and across country twice – once by plane and once by car.
The first several months of 2018 were spent caring for Janeen's dad in Macomb Illinois.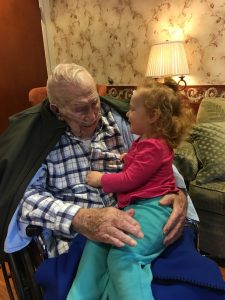 After living in a Senior Independent Living situation for 10 years or so, it was time to move into assisted living care. He spent his 101st birthday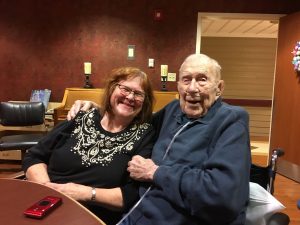 (March 5th) in Wesley Village surrounded by friends.   Janeen got to spend her birthday in Macomb too (March 6th) where we had a celebration at the local Mexican restaurant and a Margarita (no salt, over ice please).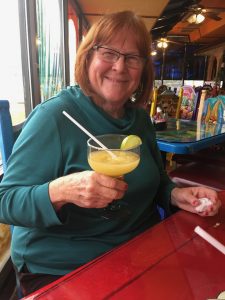 After celebrating birthdays, we were back in Springfield for a brief visit and a flight to California.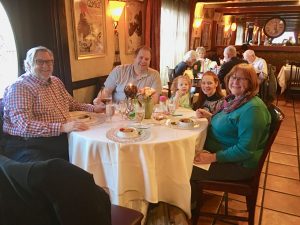 We had planned on returning to CA to visit our various doctors and getting checked up to make sure all systems were continuing to operate as designed. While there we visited with close friends, ate great foods and visited the Huntington Gardens.
We returned to Virginia in time for D.C. Cherry Blossom time.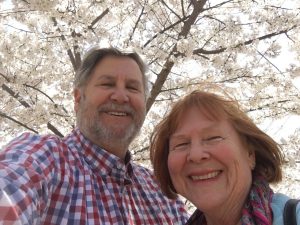 It seems the day we decided to go to the Tidal Basin was ideal – blossoms floating in the air, nice breeze and a beautiful day. We didn't stay in VA long as we head back to Macomb to check on Janeen's dad before turning South towards Savannah Georgia. Stops along the way included Cincinnati Ohio, Maysville Kentucky, Bourbon country, Nashville TN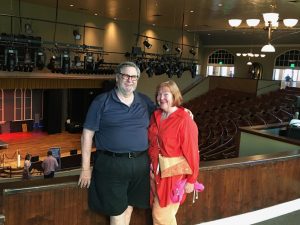 and Savannah Georgia. Coming back north we stopped in Charleston, and Asheville NC before getting back to Virginia.
After getting our clothes clean, the car washed and helping Jason (our son) do a batch of home brew beer, we packed up again and headed north. This time through Pennsylvania stopping at Longwood Gardens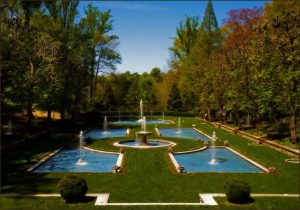 and Bethlehem before continuing on to the Finger Lakes of NY. I admit to not being impressed with the wines we tasted in the Finger Lakes but it was beautiful all the same.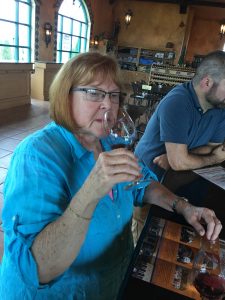 Next stop Niagara Falls.
Boy, that's a lot of water falling over the edge around Horseshoe Falls!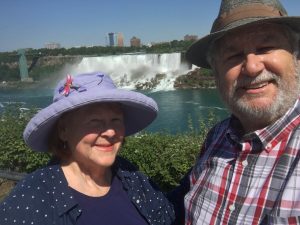 We spent a couple of days on the Canadian side of the Falls and had a enjoyable time. From there a stop in Quebec City (it was hot which seemed to surprise the locals) and then a long drive to Prince Edward Island.This is the local of Anne of Green Gables – we didn't actually make it to the "spot" but we certainly saw a lot of the countryside and they do raise a LOT of potatoes!
Winding our way south through Saint John New Brunswick and into Portland Maine we stopped in Boxford Mass to visit with friends then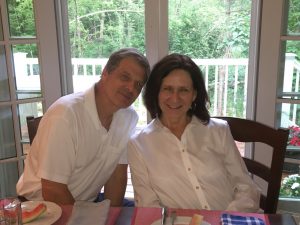 found our selves back in Virginia in time for Hamilton the Musical at the Kennedy Center. I'm really glad we had listened to the sound track a couple of times as it really helped to hear what was happening on the stage. The soundtrack includes virtually all the songs and dialogue of the entire play so following along wasn't  difficult as we had heard the songs previously. Some lines made more sense after reading the book, as well.
Business  accomplished in VA, we turned around again and headed to Macomb. We were there for the better part of July leaving the first week of August. We had things to get done in California and needed to be moving along. Traveling along route 66 for most of the way was interesting – sites you see from various commercials and movies would flash by from time to time.
While we overnighted with friends in Chandler AZ, we received word that Janeen's dad had passed. Yes, it was sad news but not unexpected.
California called us.. When we arrived, the goal was to complete the removal of all our household possessions from the home we had owned for 40 years. We kept only those items that mean something – artwork, pieces of solid wood furniture, kitchen items to set up a working kitchen, a few tools but nothing we couldn't easily replace.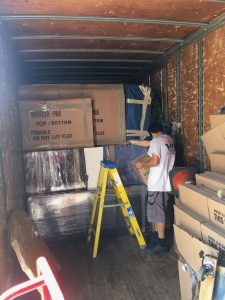 After  a quick trip to Santa Barbara for the Carnesale wedding,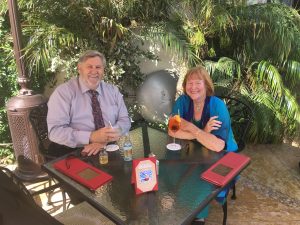 we got back in time to meet the movers to have all our stuff placed in storage. The house sold at the end of November – we are OFFICIALLY Houseless.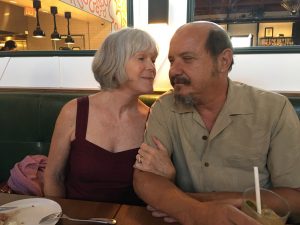 Our trusty Mercedes Benz (MerCBlu) continued to provide us with our transport as we headed to Northern California and visited with friends of 50 years in the Bay Area prior to pointing it East ;back to Illinois for an October memorial service  for Janeen's dad. Our entire family was present which was a great comfort.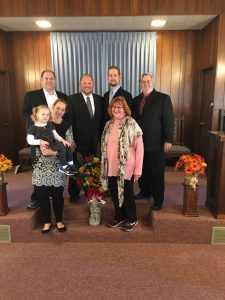 Continuing to Virginia, we once again got all our clothes clean, packed our bags and flew to Paris for the month of December.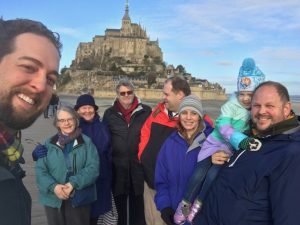 So this year (2018) started in Paris and will end in Paris. We are here with our entire family to enjoy being in the City of Lights with all that means. As for celebrating the New Year? Who knows. It's only 3:30 on the 31st as I write this so the plans for this evening are not yet set.
This "gap year" that started so long ago (we started on this adventure in June of 2017) seems to be continuing. We return to Virginia in a week but come back to Southern France in March and have two different river cruises (Holland at TulipTime and The Remarkable Rhine) in April returning back stateside the middle of May.
From us to you – Bonne Année – The Lee Blog Continues in to the new year of 2019.