We are still in Macomb Illinois. Macomb is a city and the county seat of McDonogh County, Illinois.   It has a classic 19th century Courthouse on The Square, and a Carnegie Library that has been expanded using the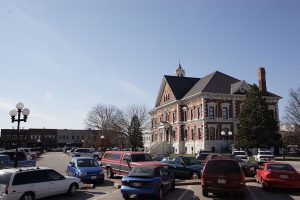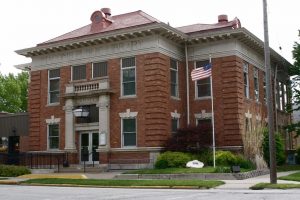 original architecture design. Situated in western Illinois, southwest of Galesburg  the city is about 75 miles southwest of Peoria and 77 miles south of the Quad Cities. It is also about equidistant west from Peoria and Springfield. A special census held in 2014 placed the city's population at 21,516. Macomb is the home of Western Illinois University "Leathernecks" the mascot bulldog and purple and gold decorate the town. There are also at least seven senior accommodations, some like Everly House (where we are staying) are Independent Senior Living, and others like Wesley Village Independent Living through assisted living and nursing/rehabilitation.
One of the things we have now remembered, living in SNOW isn't the most fun. We left eastern Pennsylvania some 40 years ago and have not really even visited SNOW since that time.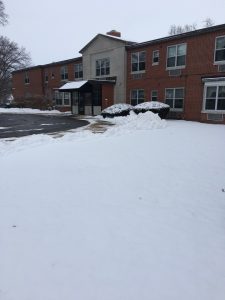 We were in Macomb maybe a day or two and 3 inches of snow arrived followed by COLD…Most days not getting above freezing. We are now in a warm spell, high of 40! Snow can be really beautiful but damn, it's COLD and WET.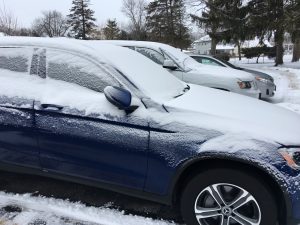 Janeen's Dad spent thirteen days at a Rehab facility where he was to get some rehab after a fall. This was NOT a good spot and after almost 2 weeks, Janeen got him admitted to the Hospital. Now in a different assisted place he is starting rehab again hoping to improve his overall condition. None of this is easy for a man who is going to be 101 on March 5th. Getting old is NOT for the faint of heart that's for sure.
During the day, while Janeen is assisting her dad, David gets to explore the city of Macomb – and have coffee at the one 'coffee shop' in town.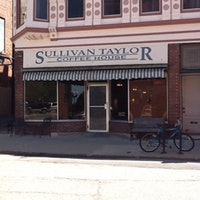 Upside, they have good coffee and free Wi-Fi and is connected to a wine shop right next door!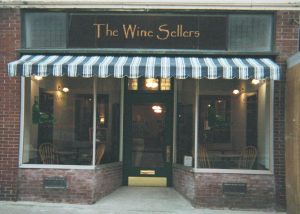 This weekend is the Western Illinois University Jazz festival – while the title seems great it is really a showcase for high school and college groups no names of note participate (damn). Not likely we will make it there as the Lees of Virginia, Terri, Katie Beth, and Jason will be arriving for a Presidents Day weekend visit to see Grandpa Harold and it will be nice to have them here for a few days.
So, looking forward, still trying to figure out a time in March to get to Los Angeles and now booked for a weekend at Thomas Jefferson's place, Monticello in June. It seems the friend who is getting married in September is a Jefferson relative and they have a "decedents" weekend and he has invited us to join him. His wedding, which I thought was going to be in Las Vegas in September, is actually going to be in Santa Barbara so we will be there in September.  After ta visit to LA in March our hope is to begin touring along the east coast – hitting all those places we have read about over the years but have never visited – Savannah, Charleston, and other spots in the "south" and head North ultimately visiting in Bethlehem PA, NYC, Boston and getting up to Canada to Prince Edward Island. December will find us flying to Paris for Christmas and New Years with the Lees' of Virginia to share the holidays with Ryan and Chris (again).
Still not sure if we will continue to rent our home in Alhambra or have it available should we want to stop all of this travel. So stay tuned as we move along this journey.