How does one make a visit to one of the seven "must see" wonders of the world a personal experience? It certainly helps to have a bright clear autumn day as a lens to view it. Then you hire a driver/guide (Marvelous Marv Tours) ) who has spent his life in Williams, Arizona (except for service in Vietnam) pick you up at the hotel and point out regional wonders en route to the south rim.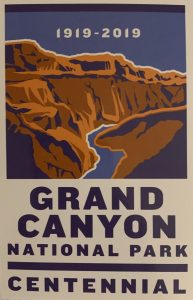 Although thousands of world visitors come to view the canyon every season, our fellow tourists were mostly burgundy- robed and civilian pilgrims to the opening of the Buddhist Temple in Williams.
Route 64 north sent us through Ponderosa pine, Pinon pine and the wild National Forest suffering from long-term drought. The Forestry service is clearing the forest floor and will light controlled burns of the cleared debris as snow approaches.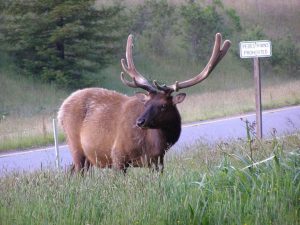 Elk groupings graze calmly along the highway, but they are an invasive species competing with antelope and native grazers.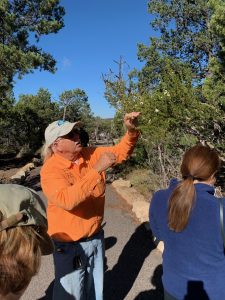 Cliff Rose bush edges the walks toward the viewpoints along with Utah juniper and Yucca family Bandolear spikes. Cliff Rose provided wool dye for rugs from "spurs", lanolin in the branches to wash the wool and a sunny yellow flower to guide natives to its growth. The points of the yucca plant worked as needles and the sturdy leaves release "threads" which helped early inhabitants bind and sew tools and coverings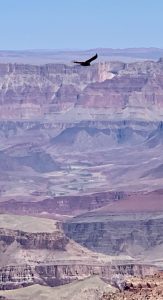 Ravens, turkey vultures and California condors float on the upstream from the canyon a mile below. Clouds shadow the geology and highlight the green of trilobite layers and Redwall limestone.
Black volcanic rock thrusts up from the base schist and golden Coconino sandstone layers at upper levels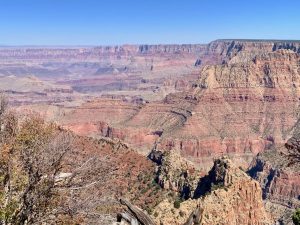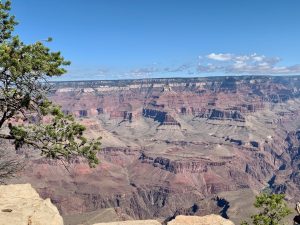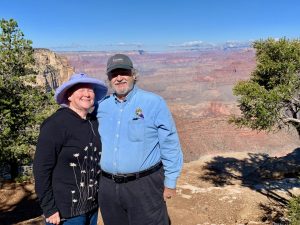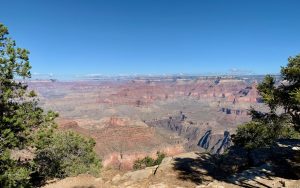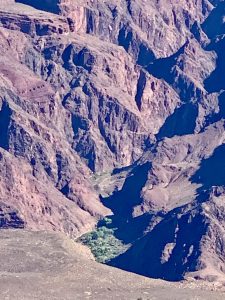 Marvelous Marv tours showed us Canyon views at Yavapai Point with the North Rim background; the muddy Colorado below, and Phantom Ranch Bridge visible as white water rafters glided though, pinpoint spots from our perch a mile above. The Yavapai Geology Museum added historic and reviewed guide points made during our trek. Grandview Point views provided expansive, yet closer photos of the layered canyon.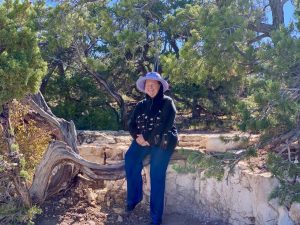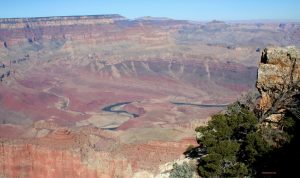 We could have taken the Grand Canyon Train from Williams to the South Rim but we really enjoyed our adventure with Marv, plus the train takes 2-1/2 hours each way giving you only a couple of hours to explore.  Marvelous Marv had us at the South Rim in just over an hour and we spent almost 5 hours in the Park before heading back to Williams.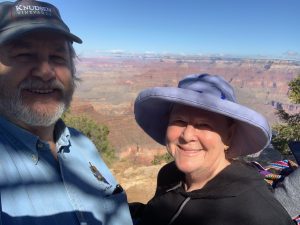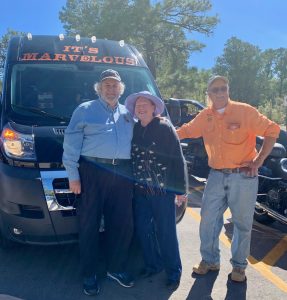 It was a beautiful day with only moderate crowds and the weather could not have been nicer to view this amazing National Park.