After leaving SoCal we drove to Cupertino and spent a couple of days at my sister Georgia's place. Our primary reason for being in the area was to celebrate the 50th wedding anniversary of our friends Pete and Jaynese. Janeen had been in the wedding party and all members of the wedding party were represented!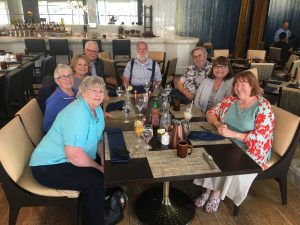 It was a lovely afternoon celebrating with them.  A couple of days later, we hooked up with our Bethlehem PA friend Myrt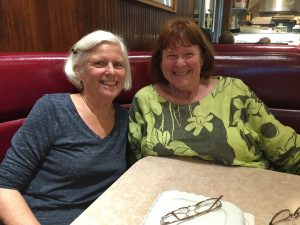 for an evening meal at Palo Alto Fountain and Grill that was delightful.
After leaving Cupertino, we went to Sonoma; first a quick visit with Richard de los Reyes,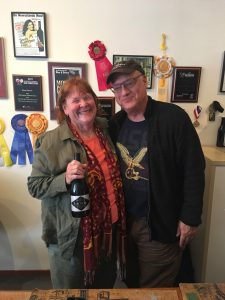 winemaker at Row Eleven then lunch with Kirk and Denise, winemakers and owners of WesMar wines.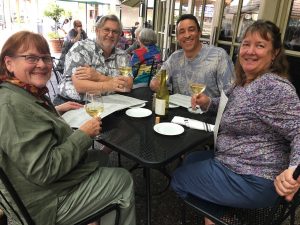 Both visits were mucho fun and it was great to see all of them even if it was for a brief time. After lunch we went to Sonoma and stayed with our friend Beth. The highlight of our visit was being able to fix all the lamps broken by her cat – turns out new light bulbs were all that was needed! It was great to visit friends prior to heading east.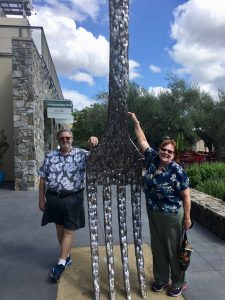 Our first stop, heading east, was the Empire Mine State Historic Park. Janeen had been here some 20 plus years ago while doing a Northern Cal tour with the boys, but I had never been. This was an active gold mine from 1850 until 1956. Since 1975 it has been a California State Park keeping alive some of the history of the gold rush times. Over its history the mine produced 5.8 million ounces of gold extracted from 367 miles of underground tunnels.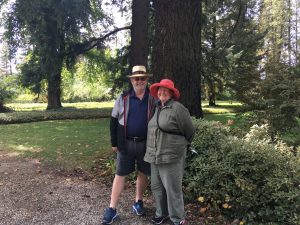 In October 1850, George Roberts discovered gold in a quartz outcrop and thus started mining in the area and after several years, it changed hands being purchased by William Bowers Bourn (1869) who died in 1874 but his son, William Bourn II along with partner George Starr modernized the place and brought in skilled Cornish miners and technology to work the hard rock mining operation.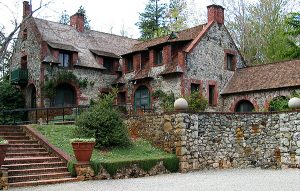 Over the years various buildings were constructed on the site including a Cottage (small cottage, only 3500 square feet) and a Club House, used to entertain visiting mine owners from around the world, plus various other mining structures.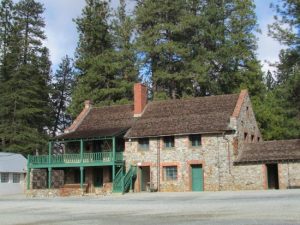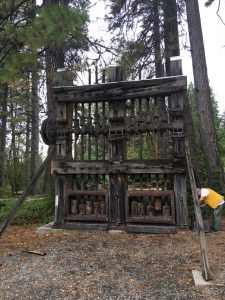 Over the years the mine went from water powered operation to steam to electricity. What never changed was the hard work required to get the gold out of the rock. Digging deeper and deeper following veins of gold baring quartz, the mine eventually went over 11,000 feet deep. Various operations to get both the workers and the rock to the surface were required. Extracting gold from rock isn't easy and generally isn't a healthy operation. Superintendent Starr, however, had an impressive safety record.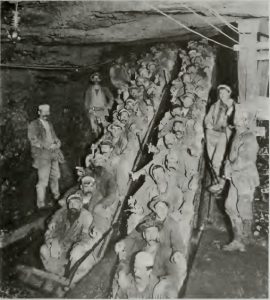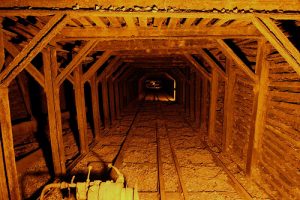 Turns out that gold mines were defined as "nonessential industry for the war effort" by the US Government and operations where shut down from 8 Oct. 1942 until 30 June 1945. After the war, a shortage of skilled miners forced the suspension of operations below the 4600 level by 1951.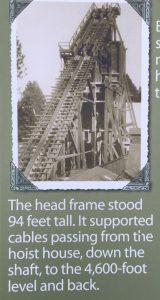 By the 1950s inflation costs for gold mining were leaving the operation unprofitable. In 1956 a crippling miners' strike over falling wages ended operations. Ellsworth Bennett, a 1910 graduate of the Mackie School Of Mines in Reno was the last "Cap'n" (Superintendent) of the Empire, overseeing the closing of the Empire on May 28, 1957 when the last Cornish water pumps were shut and removed. In its final year of operation in 1956, the Empire Mine had reached an incline depth of 11,007 ft.