On Friday, we headed out with our friends Pete and Jaynese Davis from their home in Lafayette to Point Reyes. First we stopped at a couple of shops in the village of Point Reyes, CowGirl Creamery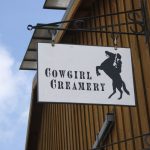 and Bovine Bakery. CowGirl Creamery makes a number of wonderful cheeses – and we picked up some triple cream called Red Hawk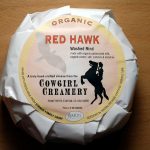 and some goat milk Gouda – both of which are taste pleasers! If we were not heading to Sonoma, and of course a visit to Vella Cheese, we would have picked up some more. Bovine Bakery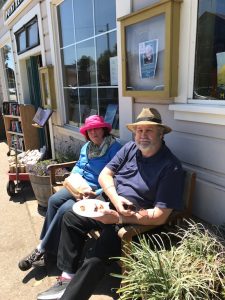 was a treat with a variety of baked goods we had to sample.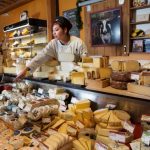 From there we went on to Point Reyes Vineyards.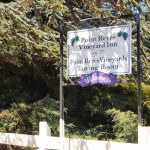 Family owned and operated it produces about 1,000 cases of wine a year – some from the vineyards planted in the early '90's of Pinot Noir and Chardonnay, others from fruit purchased close by.      We tasted the current releases of Chardonnay, Pinot Noir and Syrah plus a sparkling wine.     I would admit not to my liking but a pleasant spot to visit in the area.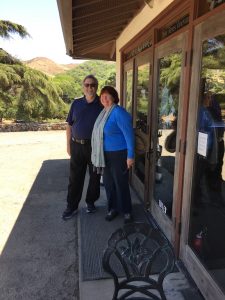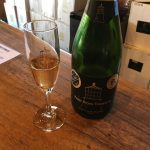 After tasting these wines, we headed west to the Point Reyes National Seashore and more particularly, the lighthouse. Point Reyes is the windiest place on the Pacific Coast and the second foggiest place on the North American continent. Weeks of fog, especially during the summer months, frequently reduce visibility to hundreds of feet. The Point Reyes Headlands, which jut 10 miles out to sea, pose a threat to each ship entering or leaving San Francisco Bay. The historic Point Reyes Lighthouse warned mariners of danger for more than a hundred years.
It was a bit windy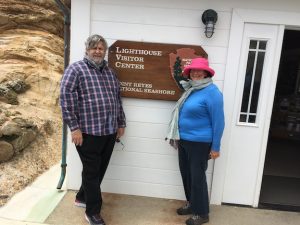 so we didn't walk down the 300 steps to the lighthouse but had a very enjoyable visit and view anyway.