Within the City of Los Angeles, there are any number of smaller cities and communities. For example, where we have lived for the last 40 years – Alhambra – is a City with it's own governance but is within the County of Los Angeles so very much influenced by what happens "downtown". This past Saturday, our friends, Phil and Jessie, took us to a new 'hip' restaurant called Hippo. Located in the old Highland Park Post Office Building, thus HIPPO, along with a neat little pizza place and a small wine shop it is one of a growing trend in this area of new restaurants.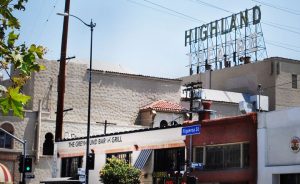 Highland Park is a hilly neighborhood in the city of Los Angeles, located in the San Rafael Hills and along the Arroyo Seco. It is situated within what was once Rancho San Rafael of the Spanish/Mexican era.
The area was originally discovered thousands of years ago by ancestors of the Chumash people (the local Indian tribe), and would later be settled by the Tongva Indian tribe most associated with early settlements in Los Angeles and the Channel Islands off the coast.  After the founding of Los Angeles in 1784, the Corporal of the Guard at the San Gabriel mission, Jose Maria Verdugo, was granted the 36,403 acre Rancho San Rafael which included the present day Highland Park. Drought in the late 1800s resulted in economic hardship for the Verdugo family, and Rancho San Rafael was eventually auctioned off in 1869 for $3,500 over an unpaid loan. The San Rafael tract was purchased by Andrew Glassell and Albert J. Chapman, who leased it out to sheepherders. Highland Park was annexed to Los Angeles in 1895.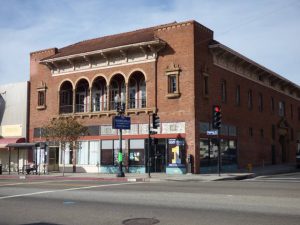 In the early 20th century, Highland Park and neighboring Pasadena became havens for artists and intellectuals who led the Arts and Crafts movement
Starting in the early 2000s, a diverse mix of people began arriving to Highland Park to seek out, buy, and revitalize Craftsman homes, some which had suffered neglect over the decades. Many of Highland Park's oldest homes were razed during the 1950s and 1960s. One architecturally significant home made its way to Heritage Square Museum, thanks to the efforts of local activists dedicated to saving Victorian homes scheduled for demolition. Like Echo Park and Eagle Rock, Highland Park has steadily seen some gentrification. People from across the region have been attracted to the historic Craftsman homes that escaped demolition. Its relatively low rents have made it increasingly popular among young people who value the pedestrian urban lifestyle afforded by the older style of neighborhood.
Once again, Highland Park is building a reputation as a mecca for artists, with trendy shops, galleries, bars and restaurants opening throughout the neighborhood. Hippo, which opened just a little over a month ago, is just one example of this change in the City.
Saturday evening is "date night" and this place was no exception. We arrived for our 5PM reservation (the only time we could get) and joined the crowd getting settled in for the evening.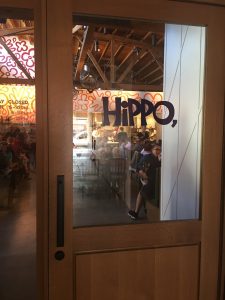 From start to finish it was a very pleasant evening.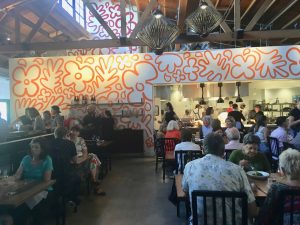 The menu has a number of lovely items: Cool summer wax beans with fresh Serrano chiles, toasted almonds& frenchie vinaigrette; Griddle'd cauliflower, cauliflower "tahini," walnut raisin caper relish; Royal Hamachi with Meyer lemon oregano relish; New Zealand tai snapper "ceviche", cucumber, tomatoes, cilantro; Sweet corn cappellacci, funghi misti, thyme; Cedar smoked ocean trout, sweet corn succotash, green goddess just to name a few of the delights on menu.
We started off with cocktails – Janeen had a "Consider your shoes" Aperol, Prosecco, Amaro Angeleno, vermouth, olive & orange.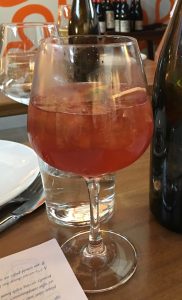 I had "Hippo old fashioned" bourbon, amaro sfumato, tart cherry, bitters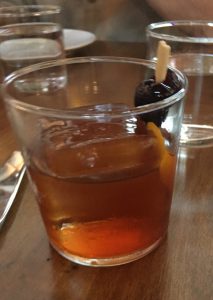 and Phil had "Paris is burning" – bourbon, italicus, lemon, blackberry, aquafaba, earl grey tea.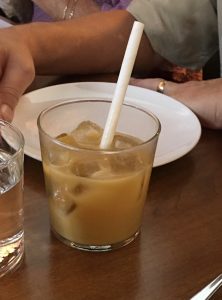 The cocktails included a lovely bufala mozzarella with cured 14 month prosciutto di san daniclle.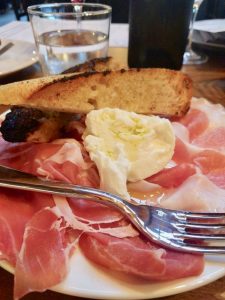 Jessie had a pour from the bottle of wine Barbera D'Alba.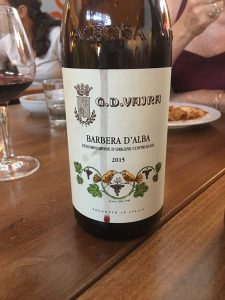 Between the four of us at the table, we ended up with several different starters and three different mains! For starters we had summer tomatoes, cucumbers, olives & feta,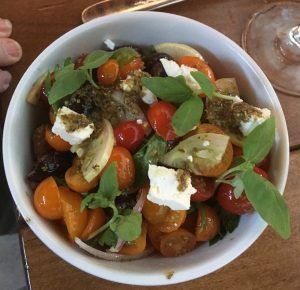 and the yellowfin tuna carpaccio. Our mains consisted of the Oxtail tagliatelle ragu,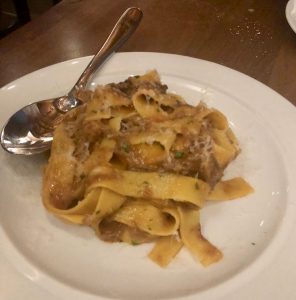 the fresh ricotta tortellini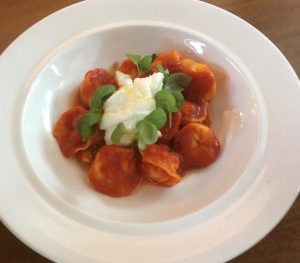 and the cedar smoked ocean trout.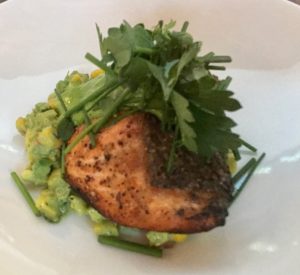 Portion size was wonderful – not so much you had left overs but not so small you felt cheated. We looked at the dessert menu but passed. One of the interesting things I noticed on the menu, and on the final bill, is they add a 3% charge to the bill to assist in offering health care coverage for the staff. Never seen anything like that before – I wonder if this is a trend for the future.