By day six of our River Cruise we had reached the Middle Rhine – more specifically we were on the Rhine River in what is called the middle section and this section is known for its many Castles.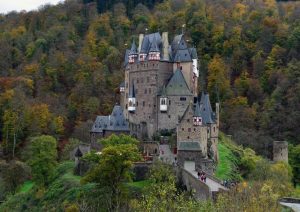 It might be a better description to call these castle fortresses as they were always built for security but they are beautiful all the same. In many cases the castle, built of stone, is above a colorful little village along the river.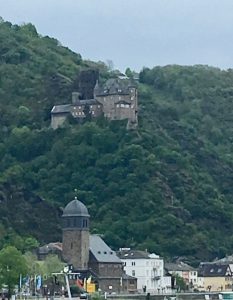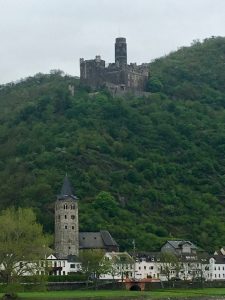 Most of these castles were built during the Middle Ages and in most cases they collected tolls for anyone going along the River.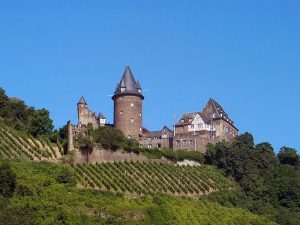 Needless to say, life in the Middle Ages was not pleasant – mostly nasty, brutish and short. It's little wonder then that these Castles on the Rhine were thick-walled fortifications built with winding staircases, slit windows and uneven cobblestone floors. Castles were built throughout the 12th and 14th centuries to serve as customs control over trade on the river.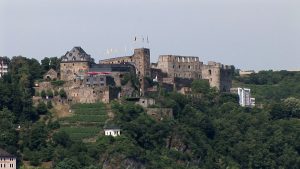 By the middle of the 14th century, firearms and canons rendered many castles useless and they were abandoned or they began a slow decline. The Thirty Years War (1618-1648) caused more destruction of the fortresses and then King Louis' armies finished off the rest during the War of Palatine Succession (1688-1697).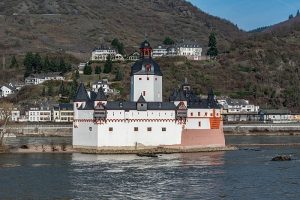 There are only three castles that remain relatively intact along the River – Marks burg, Burg Rheinfels and Burg Eltz Castles. Marksburg is the last original castle and the interiors are viewable via a guided tour; Burg Rheinfels Castle is an expansive but gutted shell and Burg Eltz Castle on the Mosel River and is quite popular.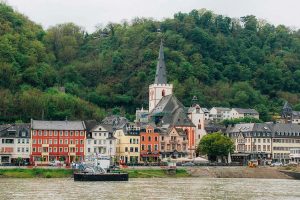 While we were unable to visit any of these castles and the towns along the river, the view was spectacular.
After cruising along for a while, we docked at Oberwesel Germany and went into the village of Bacharach for both a village stroll and tasting of Riesling wines. Bacharach is small, less than 2,000 people, but an enjoyable place to stroll around.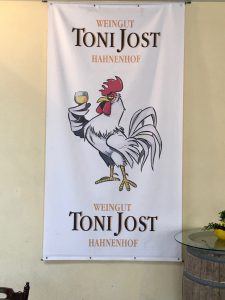 Toni Jost Wines are a small family owned place that has been making Riesling wines for the better part of 180 years! All of there wines come from vineyards they own and maintain. A delightful tasting.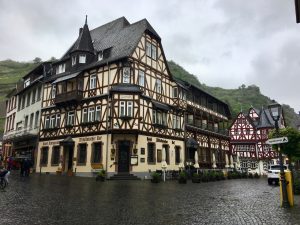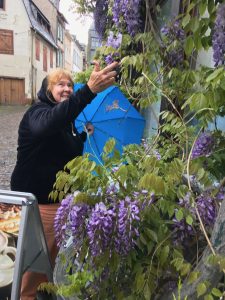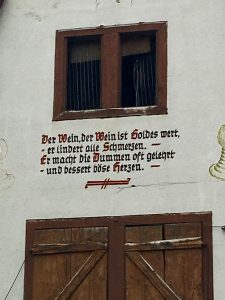 During our walk through the Village,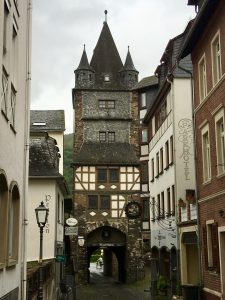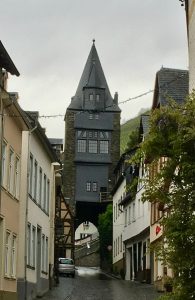 it was clear it's not a busy place as there was only one shop open on a Saturday morning.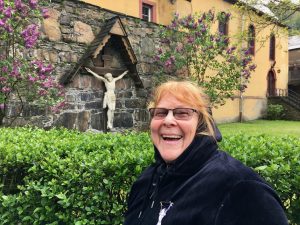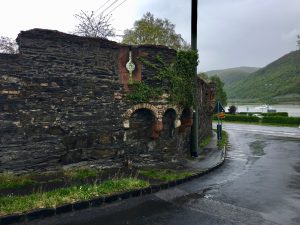 Since  it is not tourist season, nothing was open, we really didn't need to buy anything.