Virginia is dotted with a number of small wineries throughout the state. While we have been driving around we have noticed a number of them but have not been prompted to stop. Recently, a friend invited us to join her for a Harvest Festival at The Winery at Bull Run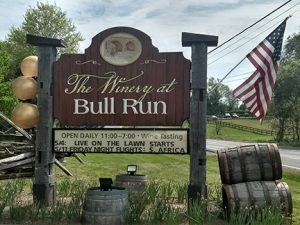 and it seemed like a good time to take the plunge into the local wine world. It would not be an exaggeration that we have been to literally 100's of wineries over the years – and have a good understanding of the process of how grapes are grown and wine is made.
Cradled in the foothills of the Bull Run Mountains, this winery is just a half hour away from our current landing pad in Springfield Virginia.  Located adjacent to a charming Stone Bridge that crosses Bull Run stream at the eastern entrance of the Manassas National Battlefield Park it is cloaked in history and drama for sure. The original stone bridge was destroyed during the first major battle at Bull Run in July 1861.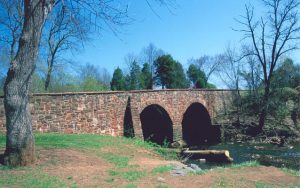 Some years later the bridge was rebuilt. Historical markers throughout the property document both the encampments and movements of both sides during the Civil War battle.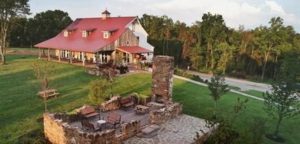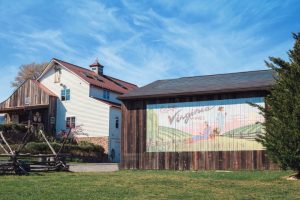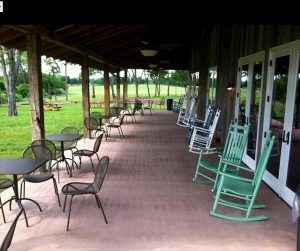 Established in 2012, the winery has had a limited release of about 2,500 cases until recently. Production is now ramping up to 10,000 or more with both estate-grown fruit and purchased fruit. The Winery has two vineyards on site totaling over 8 acres of Norton vines. The Norton grape is a true Virginia Native having been first cultivated in Richmond VA during the early 19th century. In addition to the onsite vineyards they also have a 115-acre property in Rappahannock County. At that location they are currently growing an additional 8 different varietals – Chardonnay, Petit Verdot, Chambourchin, Traminette, Merlot, Viognier, Cabernet Franc and Cabernet Sauvignon.
We arrived at the Winery in the early evening – so it was impossible to really appreciate the beauty of the location. The winery includes several buildings – a very nice tasting room, a barrel room, tank room and general support faculties.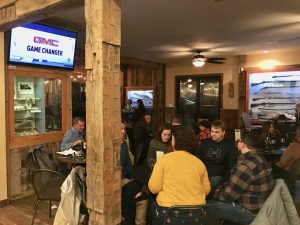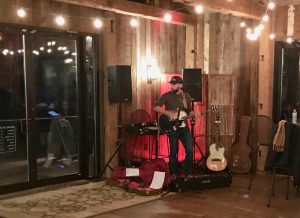 We started off in the tasting room – a charming room paneled in vintage barn wood with hand-hewn beams. A hand painted mural depicting the property circa 1862 backs the Stone bar, with copper counter.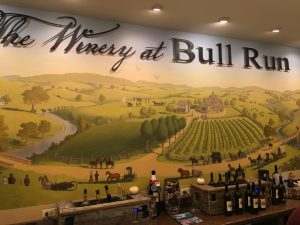 There is a nice seating area with fireplace and comfy couches plus a general area for table seating. When we arrived there was a musician playing guitar and a crowd of people enjoying the music and the wine.
Finding a spot at the bar, we sampled 3 whites and 4 reds – a standard tasting menu for the day it seems.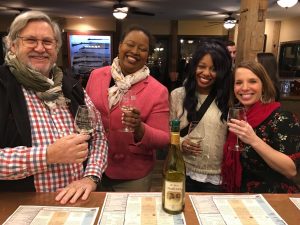 The three whites included a 2017 Pinot Gris, a Stainless Steel Chardonnay and a 2017 Delaney (a blend of 5 different varietals) then moved to the four reds: a 2017 Cabernet Sauvignon, a 2016 Merlot, a 2016 Norton Reserve and a 2017 Chambourchin. The one common denominator of the wines was the ABV of 13% that is a sweet spot as far as I am concerned. The whites were all pleasant.  The Cabernet Sauvignon had only been in bottle 3-weeks and really was not showing at its best – but then I don't see drinking a Cab Sav until it is at least 5 or 6 years old. The Merlot and Norton were interesting – soft and generally pleasing to the palate. After enjoying our tasting we headed out to the Production Barn for the Harvest Dinner.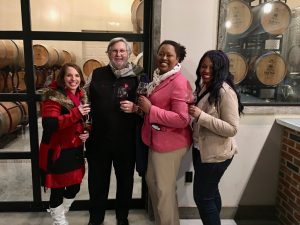 Over the course of the next couple of hours and a five-course meal paired with different wines we learned more about the place and enjoyed visiting with new friends.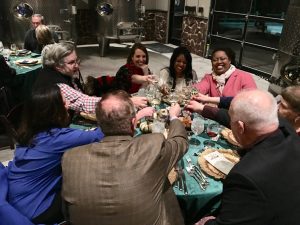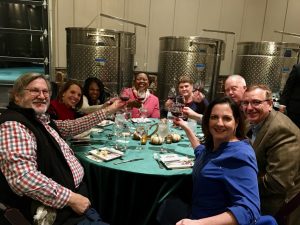 The first course was paired with a lovely 2017 Viognier – which was my wine of the evening. It went great with the Pumpkin Ricotta Ravioli and I was able to score a second glass that I nursed throughout the evening.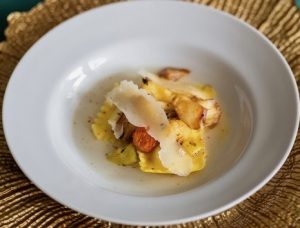 Course two was a Caramelized Onion and butternut squash tart paired with a 2017 Pinot Gris.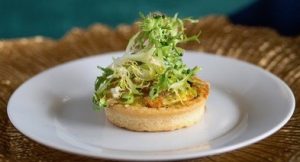 Next up was a Grilled port Tenderloin paired with a 2014 Meritage Reserve. This was the oldest wine served and quite nice (second favorite wine of the evening).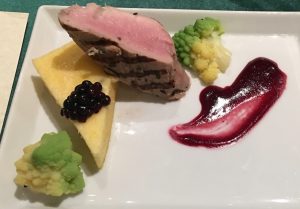 Course four was a Seared New York Strip paired with a 2016 Reconciliation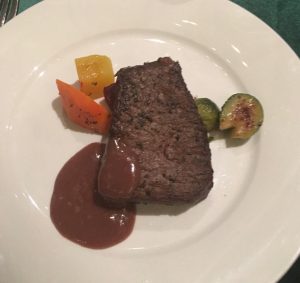 and we finished the evening with Mini Chocolate duo paired with a port style wine called Fort.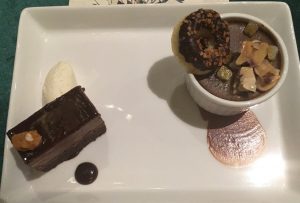 At one point I had the chance to talk to the wine maker, Ashton Lough.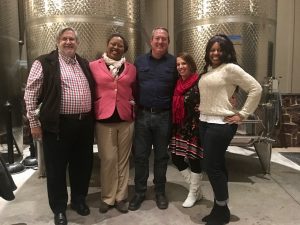 He joined the Winery at the beginning and has been responsible for all aspects of winemaking since then. Until recently his position was part time only recently being expanded to a full time position as production has increased. I found it interesting that his educational background, and I assume employment positions, was in Biochemistry and Molecular Biology. This is not the traditional pathway to becoming a winemaker but the results in the glass are quite pleasing – particularly the Viognier – so I guess he is doing OK.
The evening was enjoyable and could easily cause us to visit this place again to sample more of their wines.