For the last 40 years, we have owned a home in Alhambra California. While we have completely vacated the place and put it on the market, it has yet to sell. Recently we spent the better part of a month in our old town – staying with some friends – and doing the final bits to close out the property. As of today, (9-28) we have had several offers but have yet to get through the entire escrow and final sale process. Hopefully soon this will happen. This got me to thinking about the history of the City and what has happened over the years.
The original inhabitants of the land where Alhambra now sits are the Tongva and the San Gabriel Mission was founded nearby on September 8, 1771 as part of the Spanish conquest and occupation of Alta California. The land that would later become Alhambra was part of a 300,000-acre land grant given to Manuel Nieto, a soldier from the Los Angeles Presidio. In 1820 Mexico won its independence from the Spanish crown and lands once ruled by them became part of the Mexican Republic. These lands then transferred into the hands of the United States following the defeat in the Mexican–American War. A wealthy developer, Benjamin Davis Wilson, married Ramona Yorba, daughter of Bernardo Yorba, who owned the land that would become Alhambra. With the persuasion of his daughter, Ruth, Yorba named the land after a book she was reading, Washington Irving's Tales of the Alhambra, which he was inspired to write by his extended visit to the Alhambra palace in Granada, Spain (we visited the room where Irving wrote the book during our trip to Spain in 2015).
Alhambra was founded as a suburb of Los Angeles that remained an unincorporated area during the mid-19th century.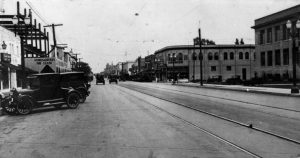 The first school in Alhambra was Ramona Convent Secondary School, built on hillside property donated by the prominent James de Barth Shorb family. Thirteen years before the city was incorporated, several prominent San Gabriel Valley families interested in the Catholic education of their daughters established the school in 1890. The city's first public high school, Alhambra High School, was established in 1898, five years before the city's incorporation – both of our sons graduated from this school along with other legendary folk including Clive Cussler – author, Cheryl Tiegs – fashion model, Dorothy Howell Rodham – mother of Hillary Clinton, Mickey Thompson – race car driver to name a few.
Incorporated in 1903, the city was originally promoted as a "city of homes" and many have historical significance. There are various styles; craftsman, bungalow, Spanish Mediterranean, Spanish colonial, Italian Beaux-arts and others. Twenty-six single-family residential areas have been designated as historical neighborhoods.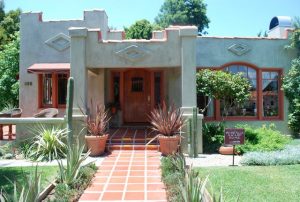 The downtown area at the intersection of Main and Garfield has been the center of the business district since 1895. Having undergone a number of construction changes over the years it is still the main point to start shopping. Along Main Street, there are a number of car dealerships making it very much a destination for anyone looking to buy a new car.

Alhambra has experienced waves of new immigrants, beginning with Italians in the 1950s, Mexicans in the 1960s, and Chinese in the 1980s. As a result, a very active Chinese business district has developed on Valley Boulevard, including Chinese supermarkets, restaurants, shops, banks, realtors, and medical offices. Just around the corner from our home was an old Bob's Big Boy Restaurant that was turned into a popular Asian restaurant, Noodle World – our go-to fast food spot for years.
Alhambra has also been in the movies!  NCIS, NCIS-Los Angeles, Father of the Bride and other TV and movies have used parts of Alhambra over the years.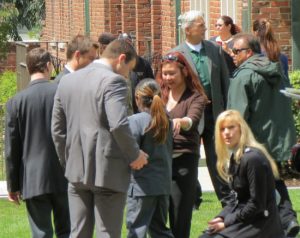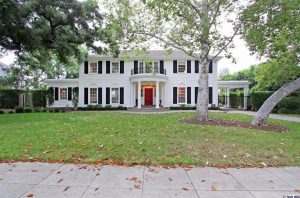 Phil Spector,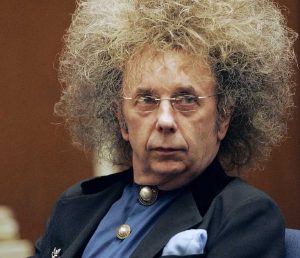 a legendary record producer who did a number of records for the Beatles and others, lived in Alhambra for many years in what was called the Pyrenees Castle built in 1926.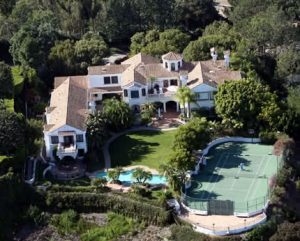 In 2003, actress Lana Clarkson was shot to death in his Alhambra home and in 2009, Spector was convicted of second-degree murder in connection with Clarkson's death. This was national news for several months.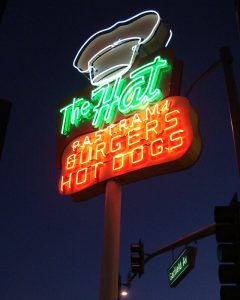 The Hat, a local icon, was opened in Alhambra in 1951. It was the original, family-owned outdoor restaurant, and is now a well-known small Southern California chain. The company has kept to its roots by keeping its retro neon signs featuring a chef's toque and the words "World Famous Pastrami". It was a prototype of today's fast-food restaurants. Its customers consume 13–15 tons of pastrami per week – we have had our share over the years but NOTHING close to the amount they sell on a regular basis. Another favorite over the years has been Pepe's Mexican Restaurant.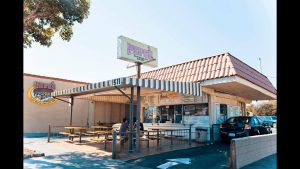 Started in Alhambra they now have locations in many local cities but the original is always the best.
During our visit we discovered that one of our favorite chefs has purchased a neighborhood pizza place and is beginning to change it into something different. Genovese's Pizza (2900 Main Street, Alhambra – stop by!)  has been around for a long time and now Hugo Molino and his wife Aricia are hosting Pop Up presentations for some of the creations Hugo has done over the years. Recently we were there for Tuscan Night that was wonderful.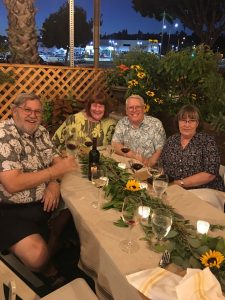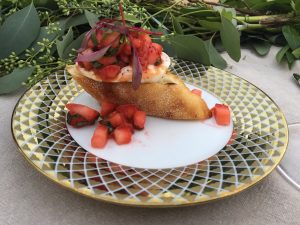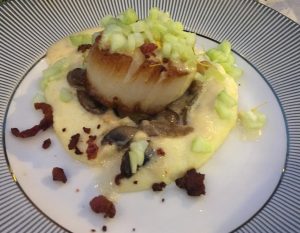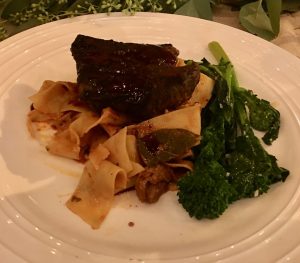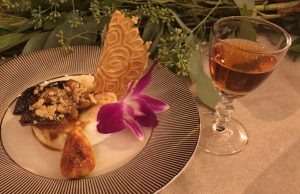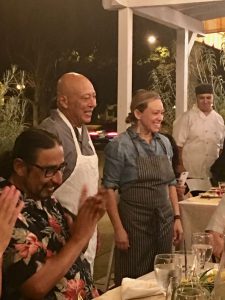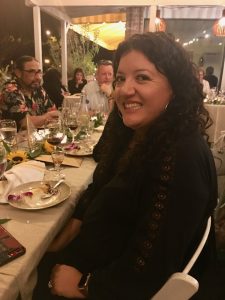 Over the years the City has changed, but it has always been able to maintain a certain character – clean, relatively safe, a bedroom community with generally good schools and an active City Council moving in conservative fashion to improve the place.
Once we sell the house, which will happen eventually we know, we will still return as we have great friends to visit, places to eat we love and a climate that is really hard to beat.