As mentioned in yesterday's post Janeen found an artist who's jewelry she liked.  This involved her buying a lovely necklace and a bracelet.  Well, the design was such that it was a gold and silver piece but the two pieces (bracelet and necklace) didn't match.  So today, as it was HOT, we called an Uber and got a ride to the third shop of the store that represented the artist.  Unfortunately they didn't have anything that would resolve this issue.  We went for a great lunch at Kampa Park Restaurant for a nice bottle of Sav Blanc and lunch.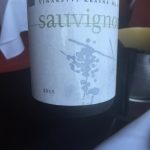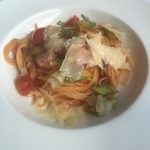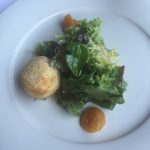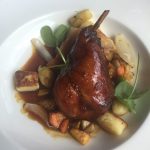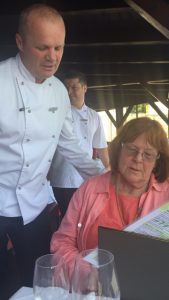 We were right on the river and watched the boats going back and forth on their various tours.
Insofar as we didn't resolve the jewelry issue, we called Uber again and went back to the original store (also the "flagship" location) to see what they could do.  Well, the staff were very friendly and with only a little prompting by me called the Artist directly to see about making adjustments to the necklace and bracelet.  Well, not a problem they said – we can ship it to you in 4 to 6 weeks.  Naturally I took a picture of them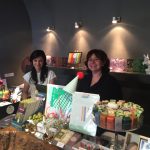 and with only an addition 200 Czech Koruna (8.40 US) the deal was done.  Of course this only made the total value of our purchases in the 7000 Koruna range. But Janeen will be happy and it will arrive in time for our anniversary (I hope).
On our way back to the Hotel we stopped for a quick picture (standing in the street) of the Powder Tower.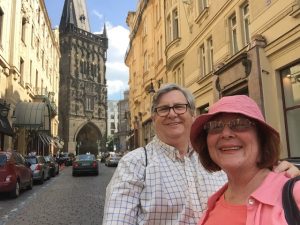 An event relaxing day for sure.