The Estates Theatre was built during the late 18th century in response to the Enlightenment thought regarding general access to the theatre, and theatres themselves demonstrating the cultural standards of a nation. The Estates Theatre was designed and built a little less than two years for the aristocrat Count Nostitz Rieneck. Currently productions include a variety of productions – drama, opera, music, plays – and the schedule changes virtually every day requiring the stage to be reset daily. Our visit included a nice tour of the building, a visit to several boxes and a performance by several musicians.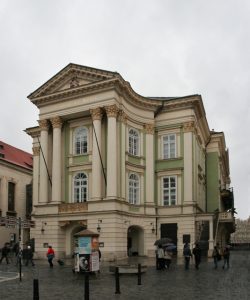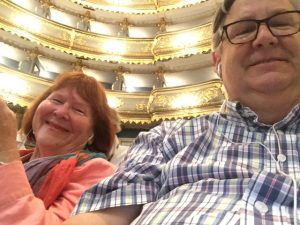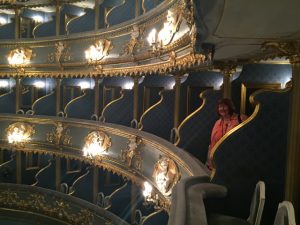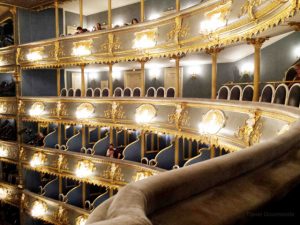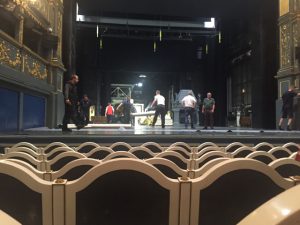 After the tour of the Theatre, we went to the Municipal House. This is a civic building originally built in the 1380's but destroyed but ultimately rebuilt in 1905. It was finally opened in 1912 and has a large auditorium and a number of "waiting" rooms around the outside of the main auditorium. It is notable for having a good deal of art installations done by Alfons Mucha, Jan Preisler and others. Today it is used as a concert hall, ballroom, civic building and I was temped to get tickets to see Diane Reeves who was scheduled for Friday evening.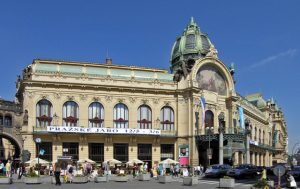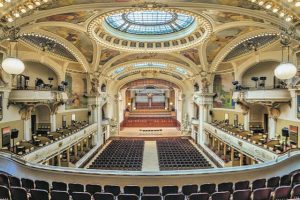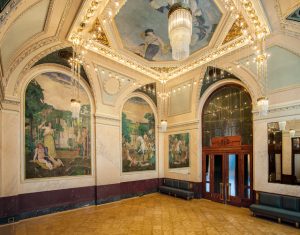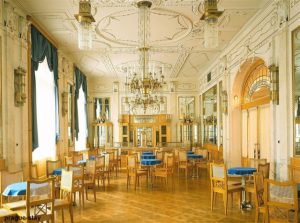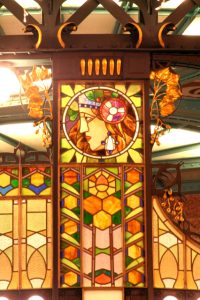 Lunch at the Municipal Building wasn't anything to write about but at least it was filling and in an interesting environment.
From there we went shopping as Janeen had found an artist's work in the gift shop she liked so we had to track down where we could see other examples. This ended up as trip to a nice shop at which we purchased a lovely necklace (more on that tomorrow).  This involved going to two of the three shops but again more on that tomorrow.
We did stop in Old Town Square for a nice bottle of wine.  It was SO hot, the water truck showed up to wet down the plaza and people as desired.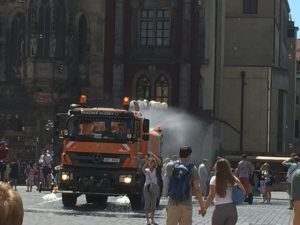 Heading back to our hotel took pictures of a couple of interesting buildings.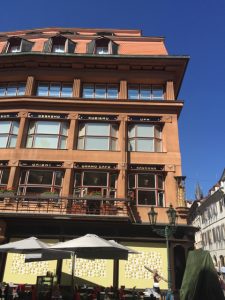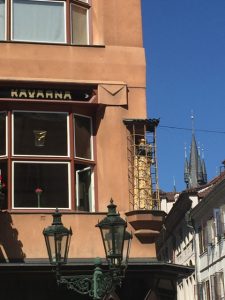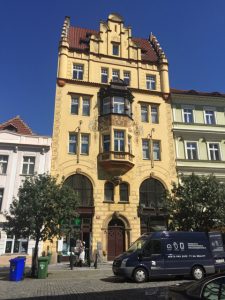 That evening we connected with Jerry and Gloria and took another Uber to dinner at Divine Cafe and Wine Bar.  Sitting in the patio we enjoyed a lovely dinner of the special of the day.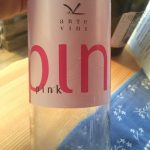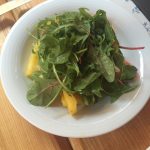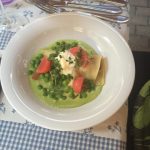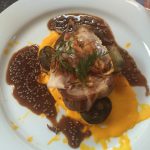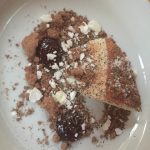 The following day Jerry and Gloria were to fly home so this was to be our final meal on this trip with them and it certainly was enjoyable.  A cab ride back to the hotel and the day was finished.