Recently I had a fellow wine taster mention a small winery located in Dundee called Ayoub Wines. As I had never heard of it before I did a little checking and it seems that Mo Ayoub spent time at Stags Leap in Napa working with Robert Brittan and after a few years decided to relocate to Oregon and craft Pinot Noir under his own label. When he arrived, and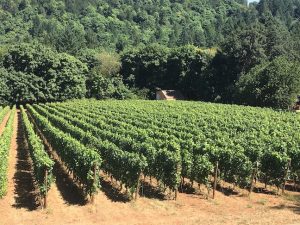 purchased several acres of vineyard land on a east facing slop above the small town of Dundee. Planting about 4 acres in 2001, on Jory soils, he planted various Pinot Noir Clones (for those who care, he put in 667, 777, 114, 115 and Pommard 4).
A small producer he is only making 2,000 cases a year. Working out of his home/winery above Dundee he feels that winemaking should reflect a combination of tradition and innovation. Ever evolving, like the wines, Mo's winemaking approach includes experimentation with a commitment to bottling only the most successful, elegant lots from the barrels. As an appointment only property, I reached out hoping we might get a few minutes for a tasting.
So, on Thursday afternoon we drove up the hill and landed at his home/winery. Mo met us at the door and proceeded to take us out the back patio that overlooks his vines. It's unusual to have an east facing vineyard in the area – most have a south or west facing planting style. Mo feels the warmth of the morning sun and the cool, shade, of the afternoon is best for his approach to winemaking.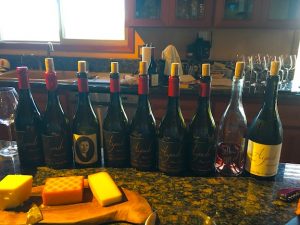 On his kitchen counter were 9 bottles of wine. It seems that last evening he had a major reviewer at the house and wanted to make sure he (the reviewer) got the full treatment of his wines. While the wines had been opened for 24 hours the all showed extremely well. Starting with his Mosé (his approach to a Pinot Noir Rosé) we found our way through a lovely Chardonnay and several different years of his Pinot Noir. We particularly liked his 2015 Estate Pinot Noir, 2015 ??? Vineyard Pinot Noir (he is not allow to say what vineyards he has sourced the fruit from but they are all well known), his 2015 Memoirs Pinot Noir and the 2016 Chardonnay. We were so taken that we ordered wines for shipment later this year! And took 2 of his Mosé (Rosé) with us for later.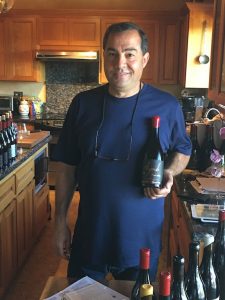 Nice wines presented well with great age potential. I was pleased to find this new producer even though I have repeatedly said I don't want to "find" a new Pinot Noir I need to have in my cellar.