For some reason, the check engine light has been on in the Prius for a few days. While I was convinced it was related to the loose gas gap, even after driving 100 miles or so, it hadn't gone off so I headed out to the local Toyota shop in McMinnville to have it checked. There is something to be said about small towns – in addition to the lovely waiting room, there was fresh coffee, fresh fruit, pastries and they started to make popcorn before I left. After waiting for an hour, I finally had it confirmed the trouble light was related to the gas cap and they didn't charge me for the service! Where else could I have gone and gotten this done for free! Not Los Angeles that's for sure or even Portland I'm guessing.
After getting back to the cottage, I took Janeen to the Curves gym in Newberg and while she was getting all hot and sweaty I had the car washed and picked up a DUTCH Bros. coffee. After returning to our 'home' we had a salad lunch and relaxed for a while.
When we first starting visiting in the area there were not a lot of 'good' restaurants. That's changed over the years of course, but one of the ones we went to early on in our travels was the Joel Palmer House.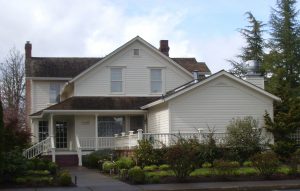 This place was started a while back with the emphasize on mushrooms – meaning most, if not all, of the dishes served had some form of mushroom included in the presentation, sauce or as part of the actual entrée being served. Since we were last here, son Christopher has taken over from his father (who started the place) and is doing a great job of changing up and moving forward. As it was a lovely evening ,we chose to sit outside on the patio – a good choice for the evening.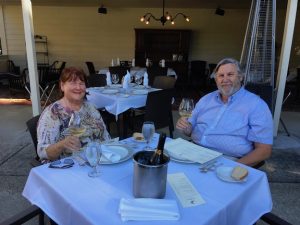 We brought our own bottle, a 2009 brut L'Ermitage from Roederer Estate in the Anderson Valley of CA. We stopped there on our way north and picked this up to see how it compared with other sparkling wines we have had.   Turns out it held up very well! The restaurant has a 3 and a 5-course pris fixe option and we selected the 3 course with an extra appetizer course.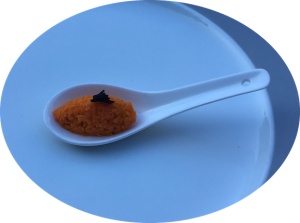 To start our meal we were presented with a Carrot Tartare – basically raw carrots with some spices. It was interesting, but not something that jumped up and said "great" to either of us.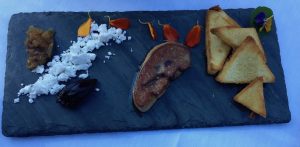 As an appetizer we had the Foie gras – presentation and taste were both quite good. From there I had the Wild Mushroom Risotto and Janeen had the Escargot – with lemon-lime emulsion and truffle.  They provided this interesting taste between courses.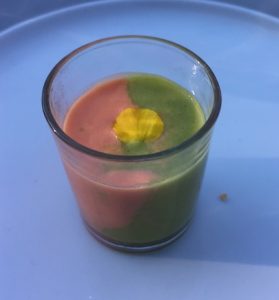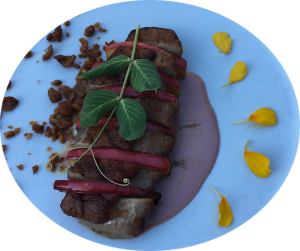 For our main, Janeen had the Duck Breast –Chinese 5 spice scented with blueberry and foie gras and I had the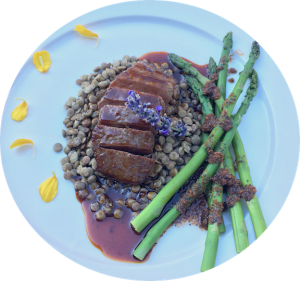 Elk Rib eye with lentils, chili and onion demi-glace. For dessert, Janeen chose Lemon Cake and berries with orange lavender glaze and I enjoyed a selection of Artisan Cheeses.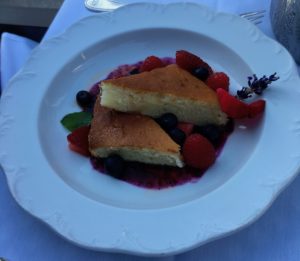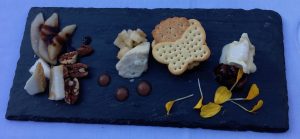 A Lovely time for sure.