In May of 2021, we received an email about a Mystery River Cruise being offered by UniWorld. The only information we had to make a decision were the actual dates of the cruise – September 22 through October 2nd. Nothing else was offered – no ports, no actual river, no specific boat. Regardless we signed up. Over the intervening months we didn't learn anything else. About a month before it actually started, we started receiving "clues" about what to expect and we learned the name of the ship, Maria Theresa, and the starting and ending ports – Passau and Budapest.
It's Mystery Cruise
Clue #1
Starting in a hotel, just for you

Clue #2
Then board a cruise fit for a count
For festivities in great amount

Clue #3
Such pretty figures decked in gold
And equine stories to be told
These didn't provide much to say the least – beyond we would be traveling on the Danube River.
We arrived at the Munich Airport, as instructed, to meet up with the UniWorld representative and be taken to our hotel. Our arrival was set for 9:30 AM and we had flown in the night before from Paris and stayed at a local hotel. According to our taxi driver, it was Octoberfest Weekend and the center of Munich was a mess so we were not really looking forward to being there.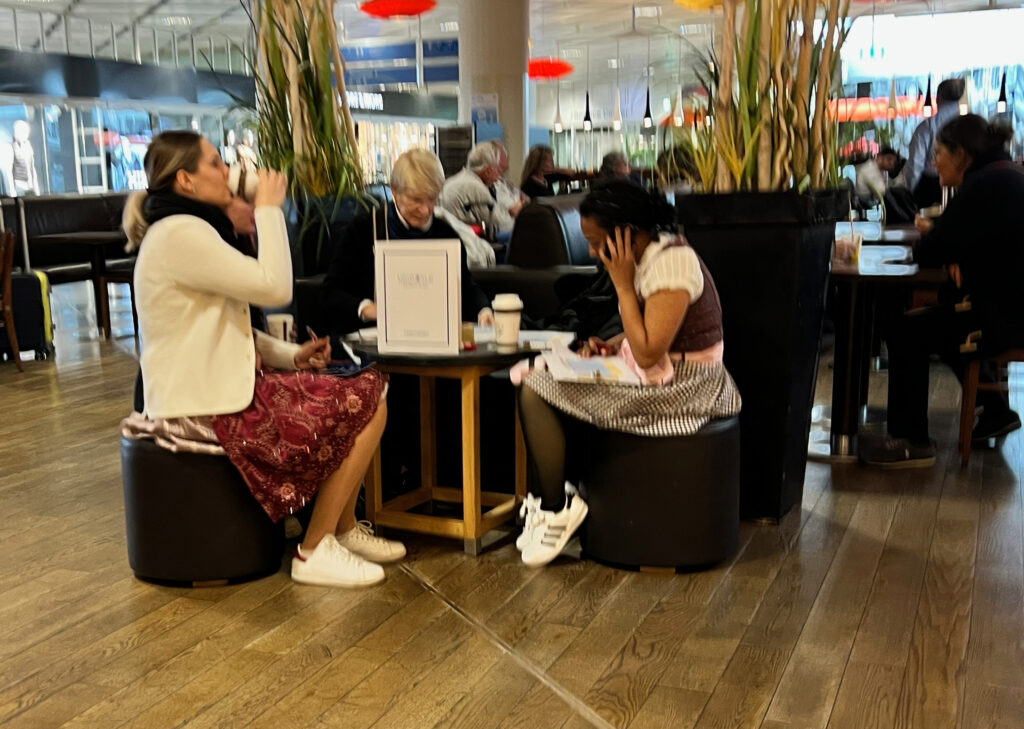 Fortunately, we didn't head to Munich center but on a motor couch for almost 4 hours.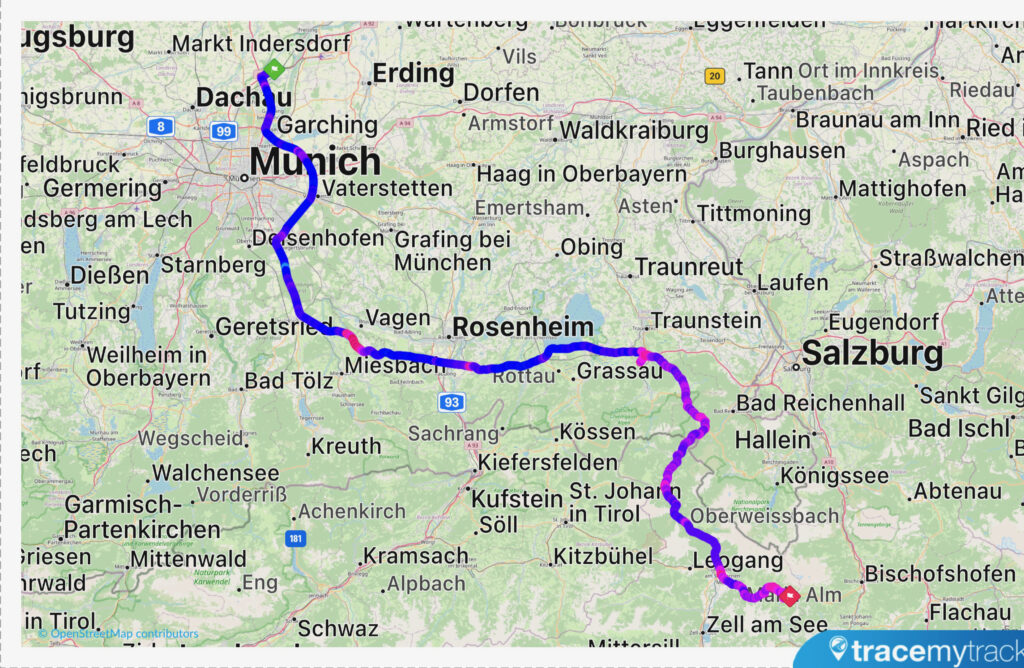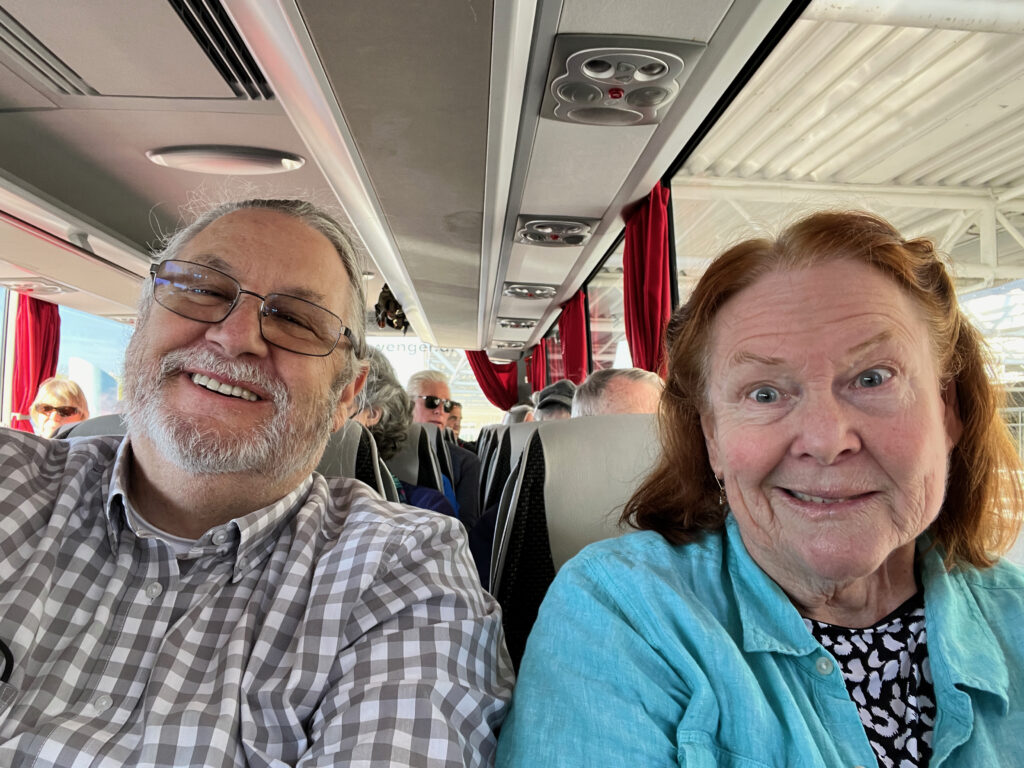 Along the way, I finally figured out where we were going – a resort in Austria called Hotel Übergossene Alm – Clue #1 "Starting in a hotel, just for you"
The resort, truly a lovely location at the foot of the Hochkönig mountain range and a four-star superior Hotel Übergossene Alm. Tradition and modernity, sustainability and vision, all of this is not a contradiction in the Übergossene Alm but an incentive. For two generations, the Burgschwaiger family has personally welcomed their guests here in Dienten at 1,250 meters above sea level in the Salzburg region. There were pools, a massive spa, various playgrounds for young and old and so many amenities we really didn't have time or energy to check them out.
After arriving at the Hotel, we settled into our room and relaxed.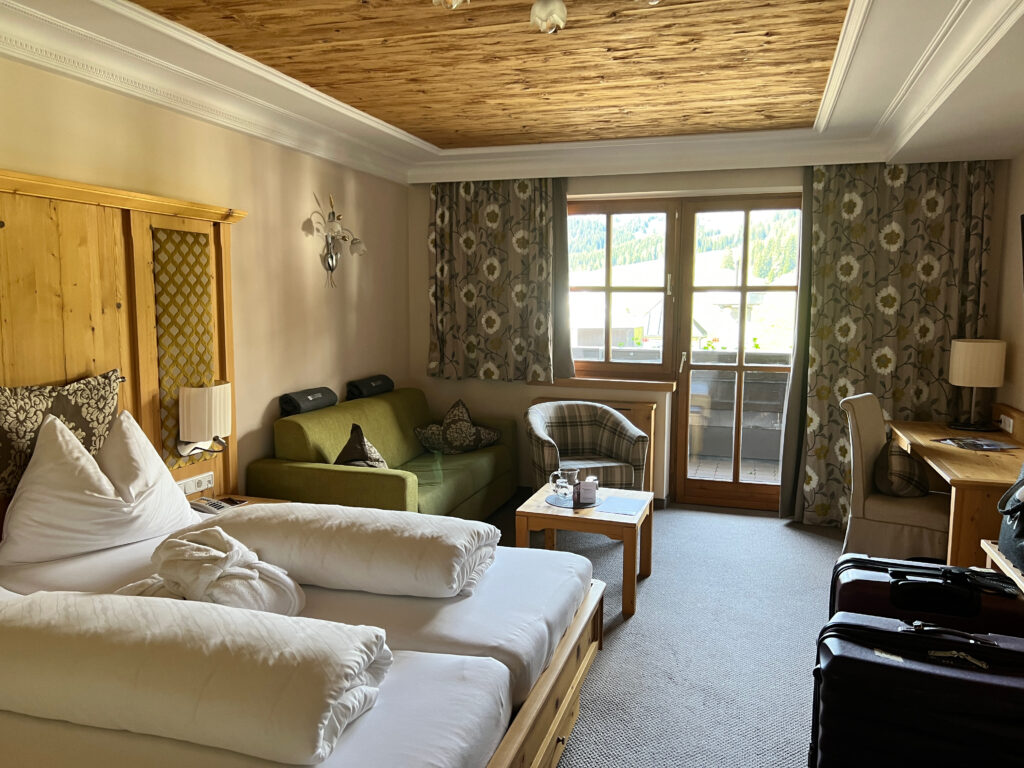 By late afternoon, all three bus-loads of guests had arrived and an introduction session was held. Still everything was a mystery so any information would appreciated. At the afternoon session, we got the introductions and welcome and more information but only very limited for sure.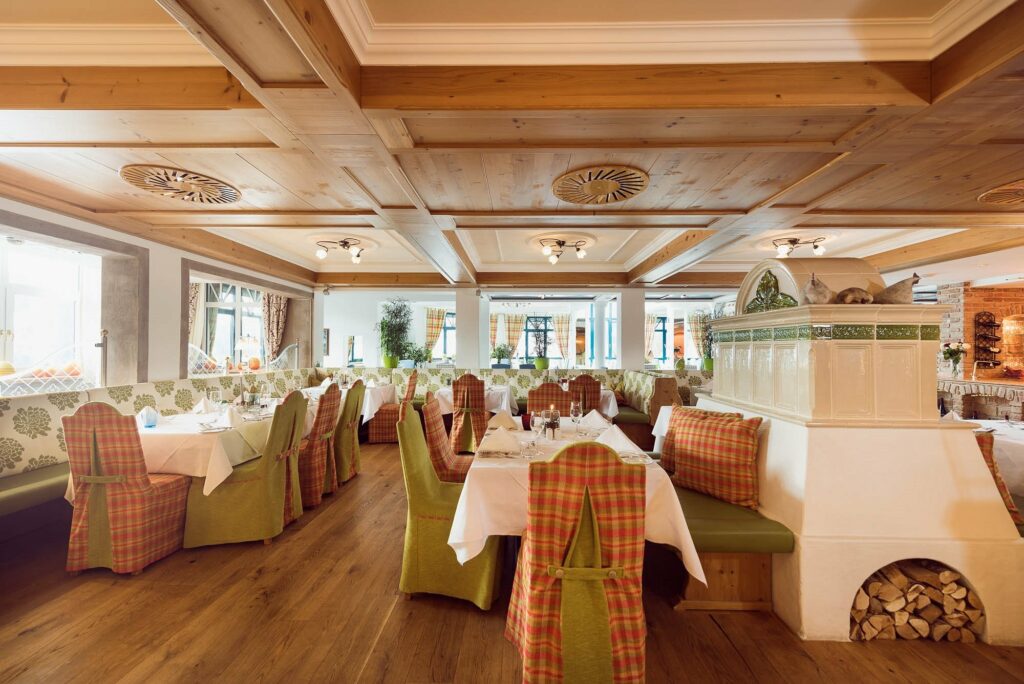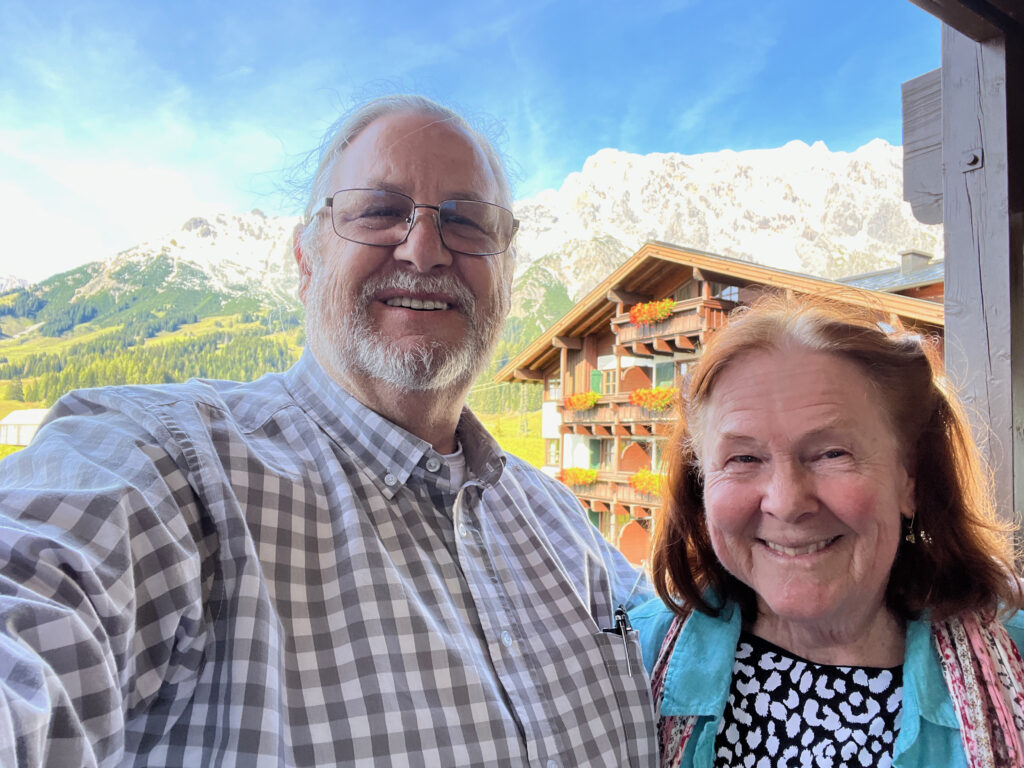 When it finally came time for the 'big reveal', all we learned was the name Mozart.  Seems we were going to the town of his birth – Salzburg.  Unfortunately, that meant another couch ride of about 90 minutes but at least there was a know destination provided.
The following morning, after a nice breakfast, we again boarded our buses and headed to Salzburg. Fortunately, as everyone had now arrived there was a LOT more room on the bus so much more comfortable.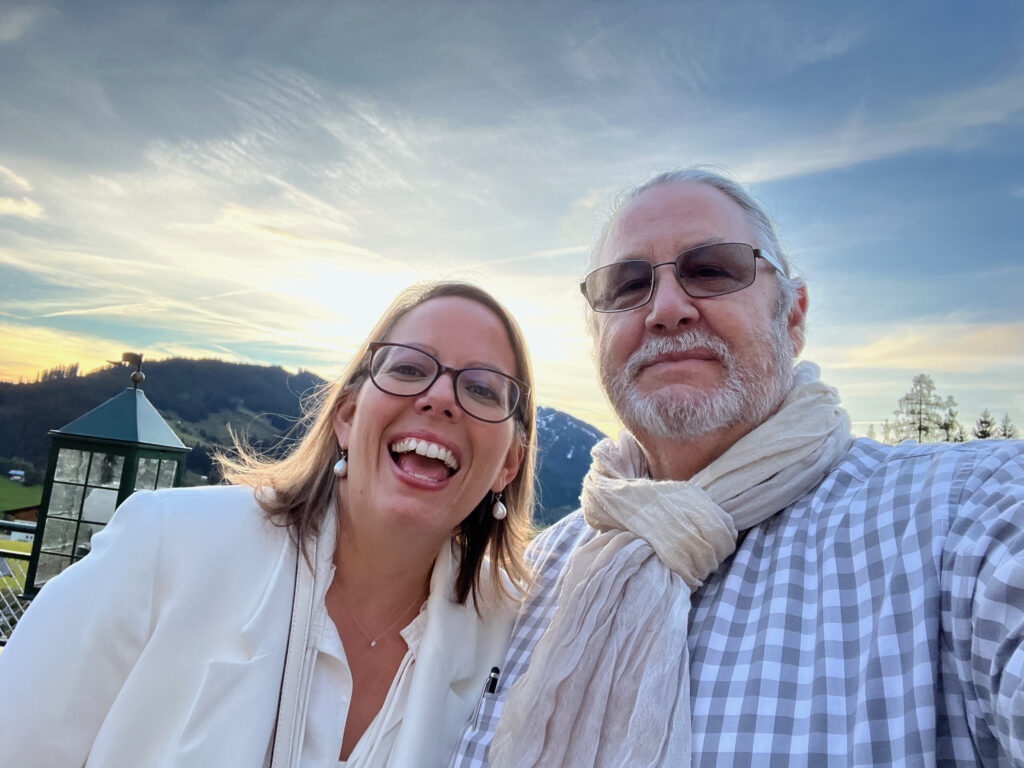 The fourth largest city in Austria, Salzburg is one of the country's most popular tourist destinations alongside Vienna. With spectacular Alpine landscapes, enchanting culture and a location just next to the German border, Salzburg makes for the perfect day trip from Munich. Salzburg got its name because of the salt mines around the city. In past, Salzburg lived at the expense of salt extraction. In German "Salz" means "salt" and "Burg" castle.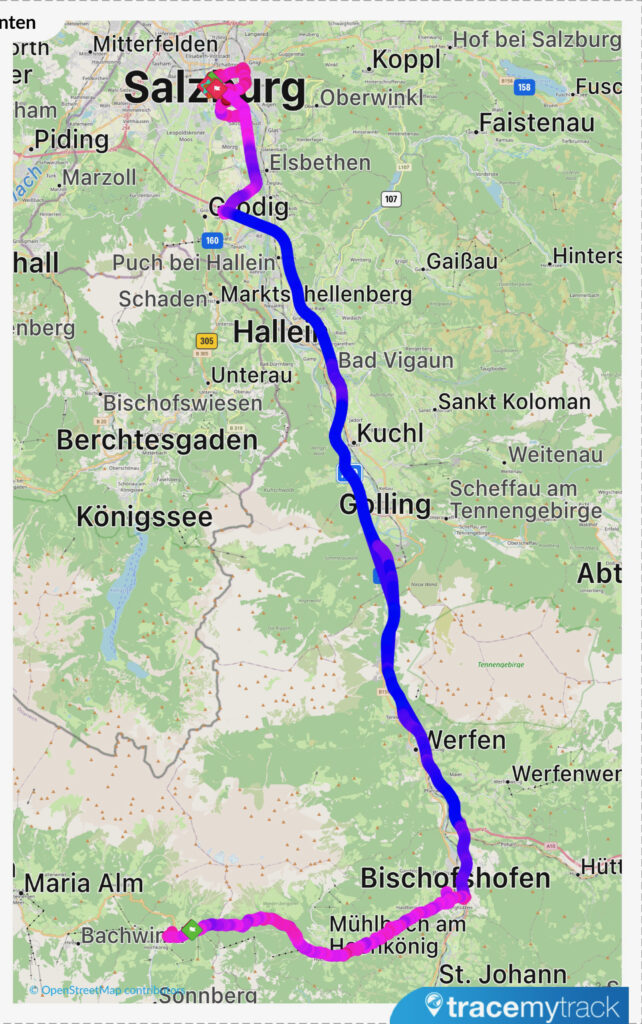 It's been 200 years or so since he lived here, but Mozart is still very much Salzburg's favorite son. During our walking tour, we passed by the composer's residence and birthplace and continued to explore the Old City, taking in the baroque architecture. Of course, the most popular music, at least to our guide, was more the Sound of Music. Yes, the Von Trapps lived in the area and the musical was partly filmed in Salzburg but after a while, all the Sound of Music references do get a bit old.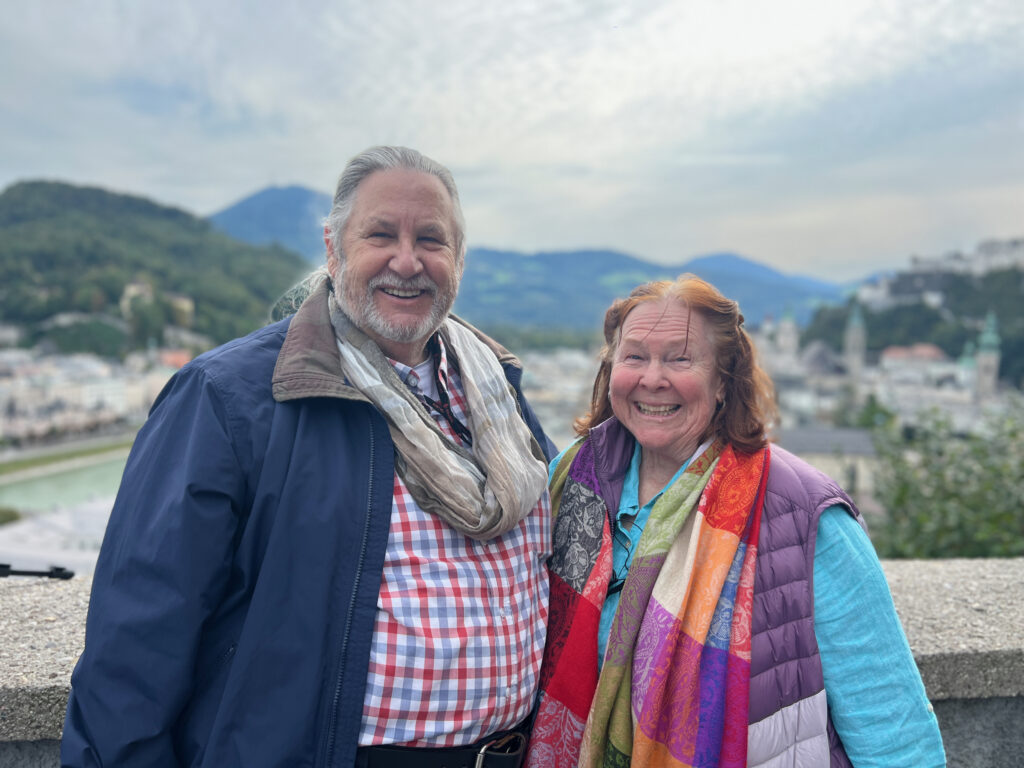 If your musical tastes run more "Raindrops on roses and whiskers on kittens" than "Requiem in D Minor," catch one of the many Sound of Music tours and follow in the footsteps of the Von Trapps. Our visit coincided with Saint Rupert's Day.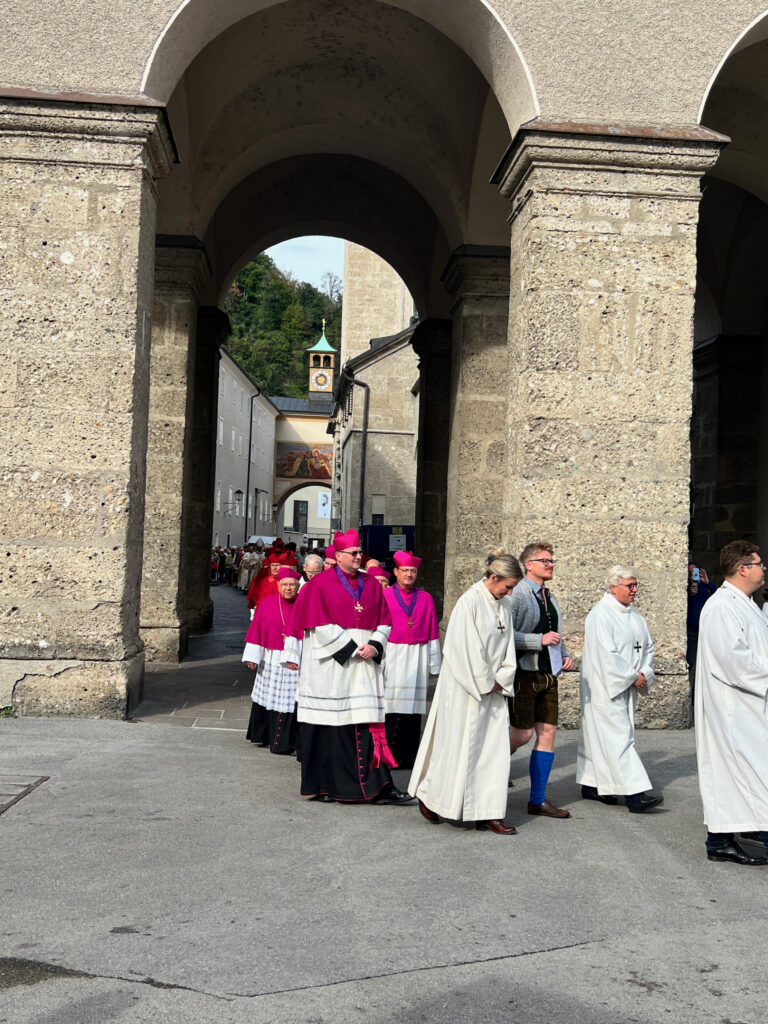 Saint Rupert's Day is a regional public holiday in the city of Salzburg and takes place in honor of the patron saint and founder of Salzburg, Saint Rupert. As we were heading to the Museum of Modern Art patio (which has a beautiful overview of the city) we experienced the Church Procession and ringing of the bells. Fun times, interesting to see the transitions and history of the city being played out before us.
After lunch we had some free time and then headed back to the boat.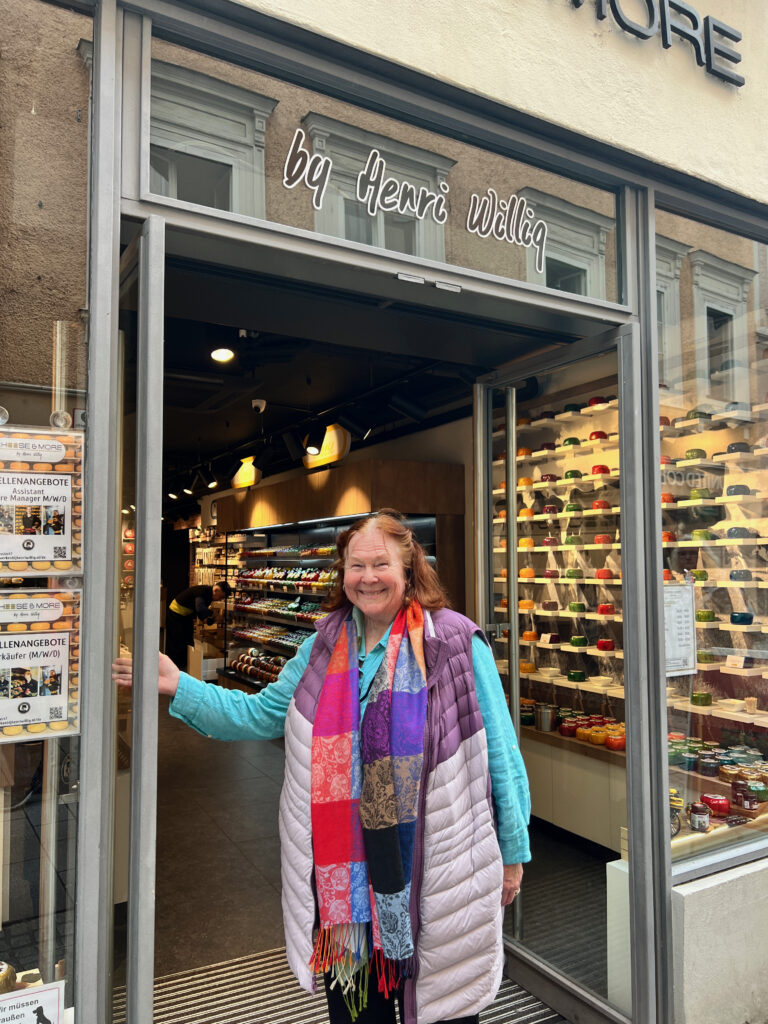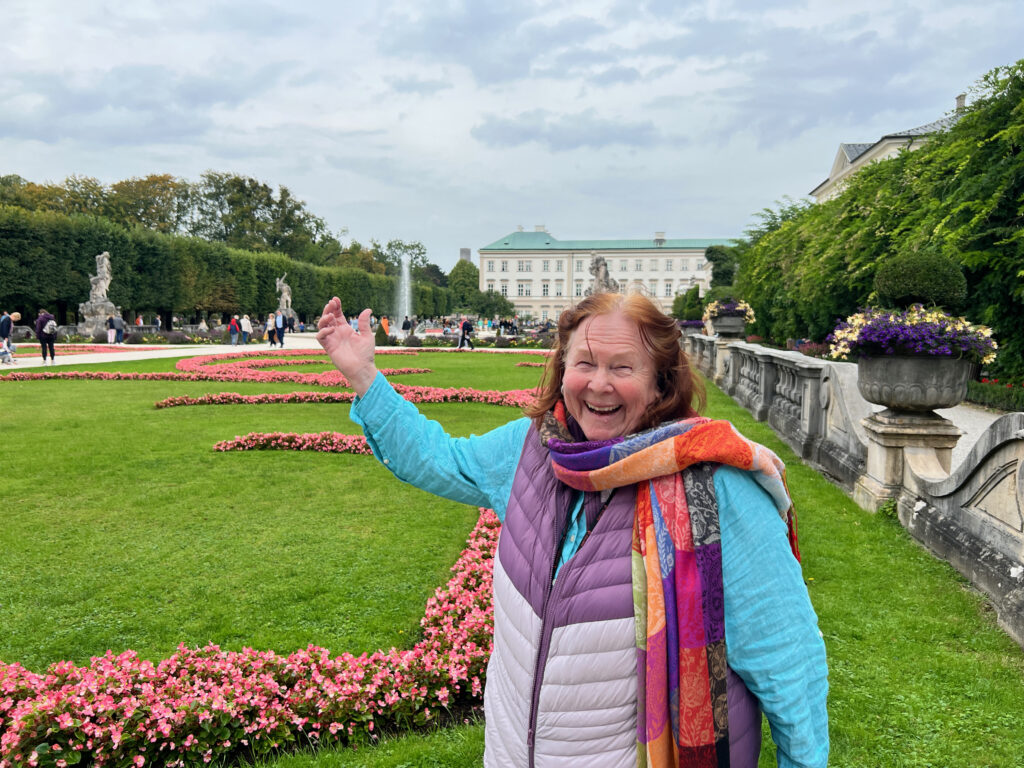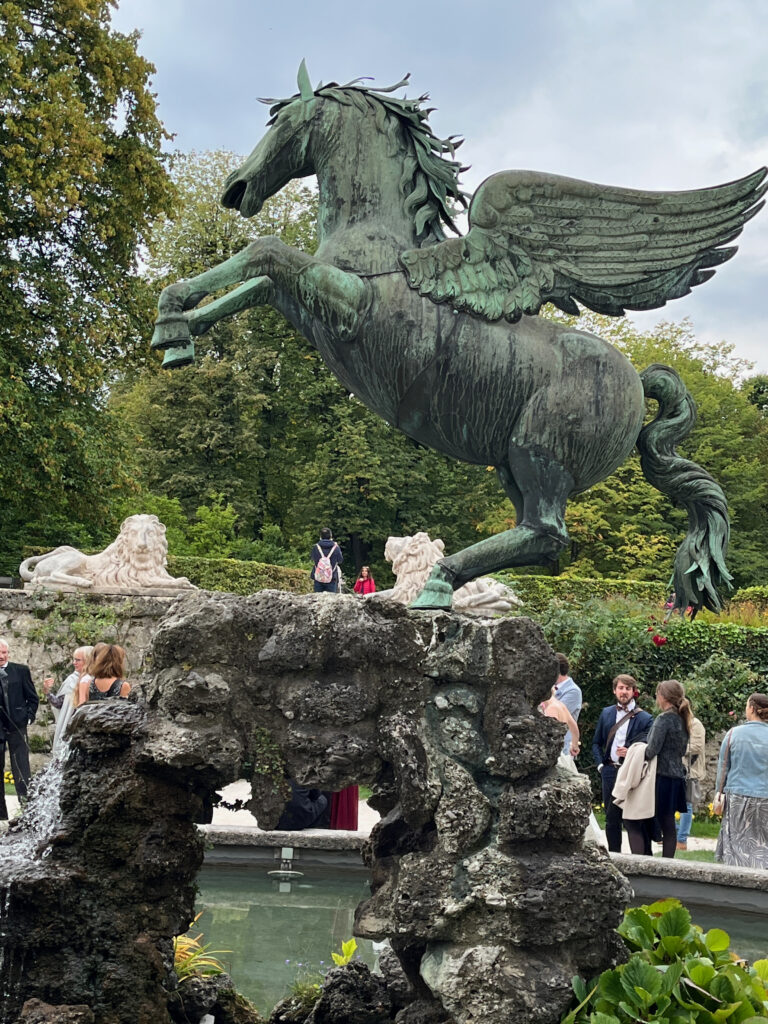 After arriving at the Hotel, we had time to relax before heading out for dinner at Tiergarten ALM.
The Tiergarten ALM is located in an alpine pasture about a 10-minute ride from our hotel. Owned by the same family for a couple of generations, it started off as a farm where locals would stop in for a meal while hiking or skiing in the area. It has turned into a lovely restaurant with wonderful views and a warm atmosphere for sure. As we arrived we were met by a tray loads of beer, wine and fresh squeezed lemonade.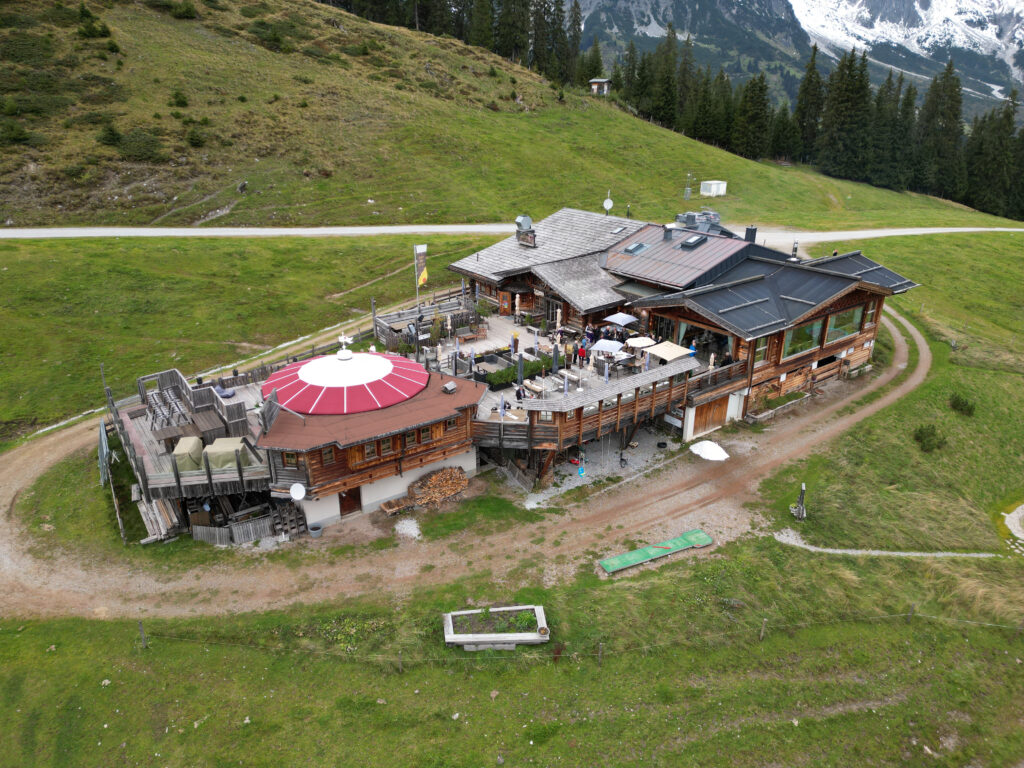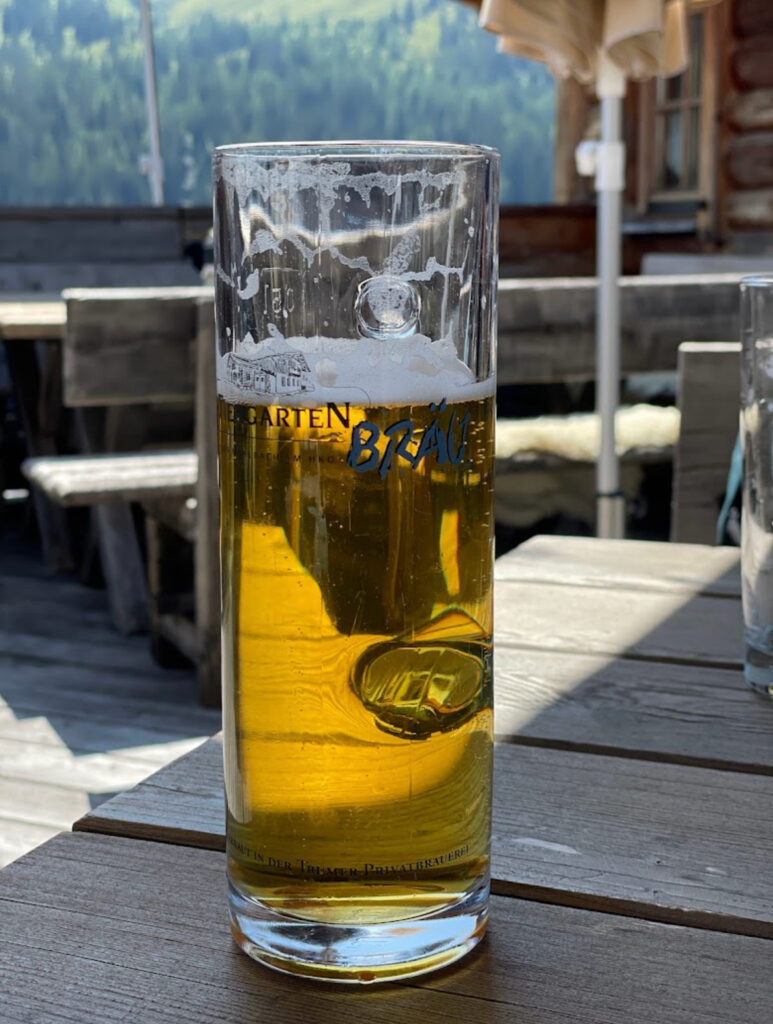 After the drive back to the Hotel, we packed everything up and got ready for our next adventure – Joining up with the Ship SS Maria Theresa