This past January, we took a Princes Cruise through the Panama Canal. Our voyage started in Fort Lauderdale, Florida made stops in Aruba, Costa Rica and two stops in Mexico – Puerto Chiapas and Cabo San Lucas before ending the journey in Los Angeles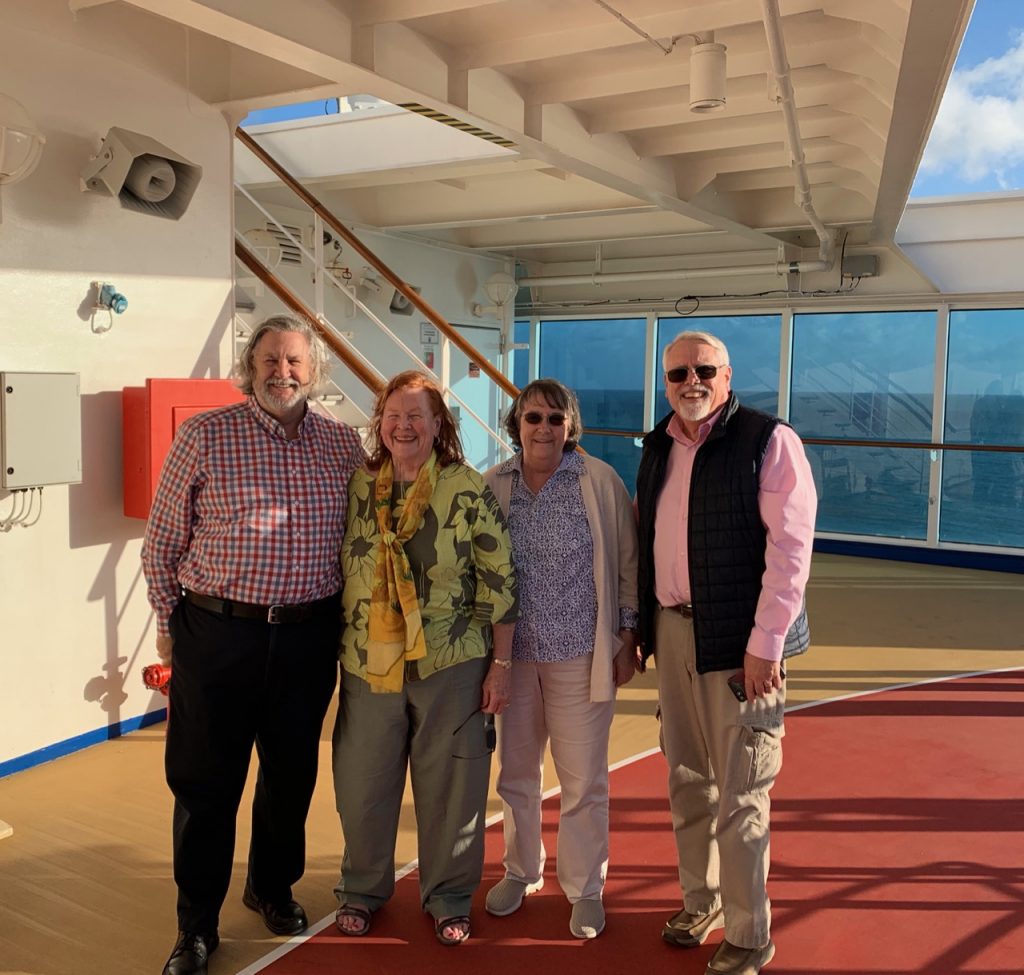 This was a much different cruse then we experienced over Thanksgiving on Carnival Cruise – first, this is a small ship, only 650 passengers and didn't do anything like a round trip cruise as we did in November. In fact, we boarded the ship on its first leg of an around the world trip lasting 111 days. Our part of the overall trip was only 15 days so just a small piece of the trip being taken by a lot of the passengers on board. The entire trip had only the four stops so most time was spent at sea.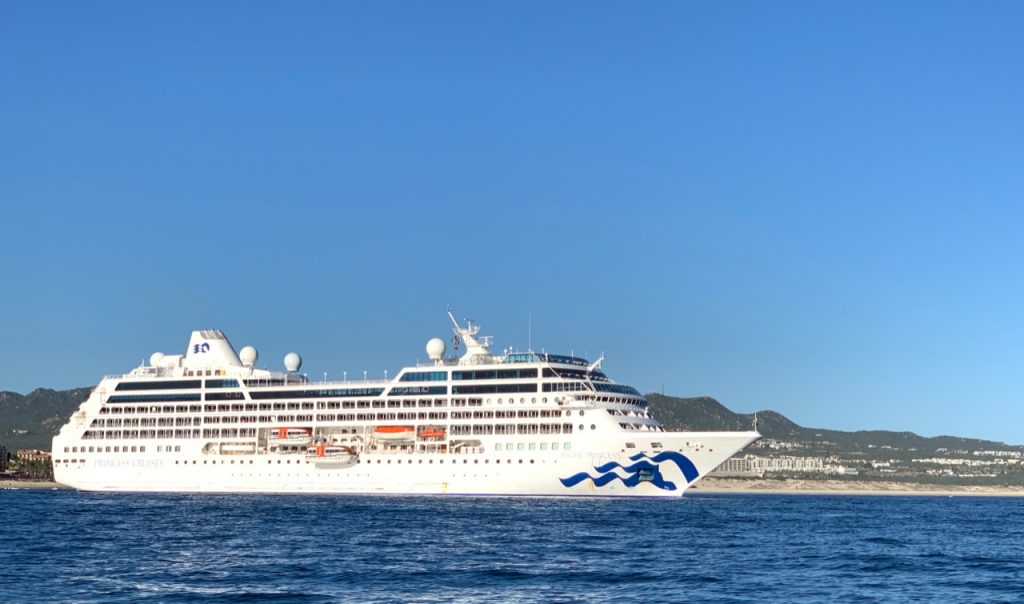 We had booked this cruise after a long conversation with our friends Jim and Sally. They have been on a number of cruises but never on a small ship such as the Pacific Princess. As a matter of fact, Jim had recommended we try this ship for our Alaska cruise that is scheduled for June. After we booked that cruise,he started looking at it's overall itinerary and found the Panama Canal leg of the around the world trip (the ship goes completely around before we re-board it in Alaska in June). Once he discovered the Panama Transit trip he booked passage and we did too.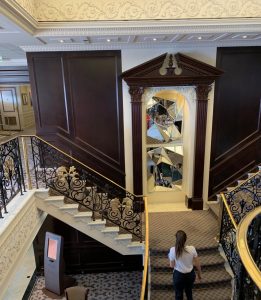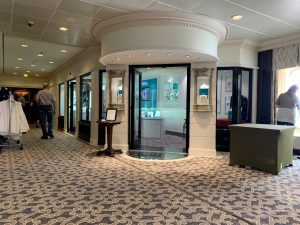 Pacific Princes, as I mentioned, is the smallest ship in the Princess Fleet – with 11 decks and is 592 feet long as compared to their other ships with 19 decks and over 1,000 feet long. The smaller ship still provides many of the same amenities found on the larger ships, specialty restaurants, bar entertainment and cabaret shows, but certainly nothing like the crowds for sure. Yes, there was a small Casino on board – with various game tables (no craps for some reason) and slot machines but we were not tempted to play.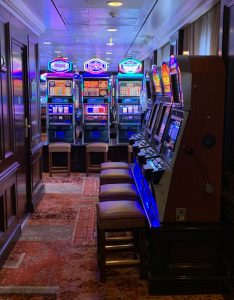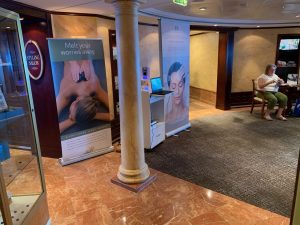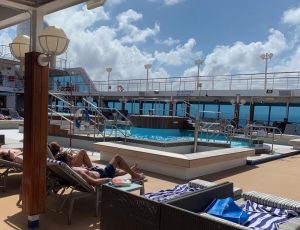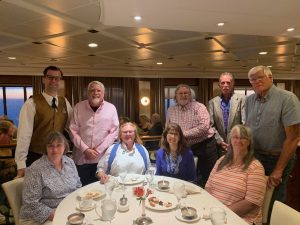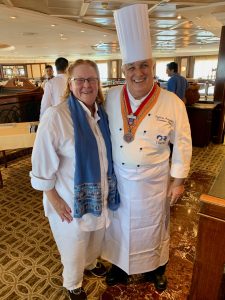 Our cabin was on deck 7 as was Sally and Jim's. We had a nice room with a balcony but we didn't spend a lot of time in the cabin, as there were things to do and places to explore. Dining was either in the dining room with wait service on deck 4 (most evenings were there) or in the buffet on deck 9. Also on deck 9 was the spa (Janeen spent several relaxing hours there) with the pool in the middle. On deck 10 forward was the Pacific Lounge Bar where we met each evening for an adult beverage before dinner or to just hang out and see the sights. A nice library and reading room on deck 10 aft was also a quiet place to enjoy the afternoon. At the opposite end of the ship from the dining room was the Cabaret Lounge with entertainment in the evening and various presentations during the day.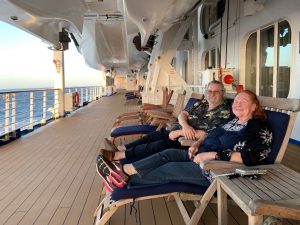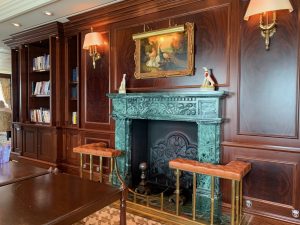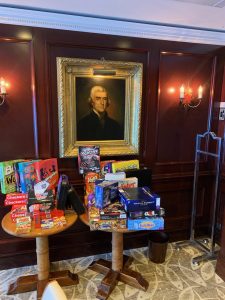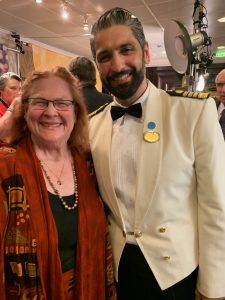 Our Dinner seating was early, 5:30 or so, and we shared the table with 2 other couples along with Sally and Jim. One couple – Al and Denise – were on board for the entire adventure of 111 days while the other couple – Ron and Carol – were getting off with us in Los Angeles. I would have to say we had a good group of people at our table and really all the people we spoke to seem to be having a good time and enjoying the adventure. I did speak with one passenger who was on his 10th around the world cruise (on the same ship!) and he had his grandson with him as his full time caregiver. I'm not certain about going on a cruise for 111 days ,but to do it 10 times seems a bit much ,however if you enjoy it and have the money why not?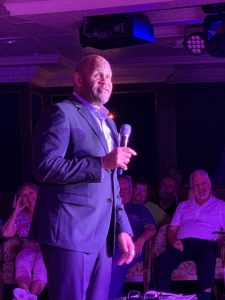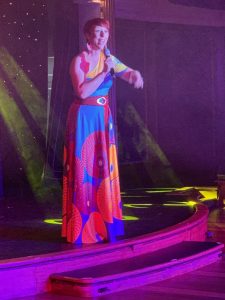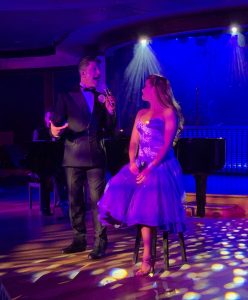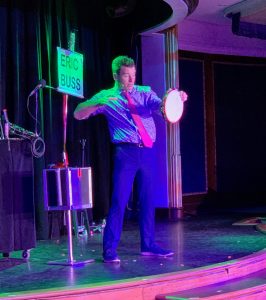 Over the next few blogs I will try and give some highlights about the various port of call and of course the adventure of going through the Panama Canal. Until then, as Rick Steve's always says, "Keep on traveling".