Paris, the City of Light is the world's most visited capital. The city is proud of its many monuments from the iconic Eiffel Tower to the lofty Notre-Dame cathedral and the majestic Arc de Triomphe. No doubt this is Europe's most enchanting capital!
Here is our list of the top 10 Things to Do and Must-Sees in Paris
Go to the top of the Eiffel Tower.
Take a riverboat cruise on the Seine
Enjoy a Hop-On Hop-Off bus ride around Paris
Paris by Night: Spend an exceptional evening at the Moulin Rouge.
Visit the Notre-Dame Cathedral of Paris.
Take a stroll around Montmartre and visit the Sacré Coeur Basilica.
Visit the Louve Museum
Enjoy a romantic dinner on the Seine River
Take a stroll in the heart of Paris
Visit the Garnier Opera House.
Yes, there are lots of historic neighborhoods to explore; bistros to sit and have a coffee and all those monuments are spectacular. However, there is another side of Paris that tourists don't normally visit and they include outdoor markets (literally hundreds held every week) and a Flea Market that goes back over two centuries!
The most famous flea market in Paris is the one at Porte de Clignancourt, officially called Les Puces de Saint-Ouen, but known to everyone as Les Puces (The Fleas).  It covers seven hectares and is the largest antique market in the world, receiving between 120,000 to 180,000 visitors each weekend. This market is about a 10-minute walk from our apartment.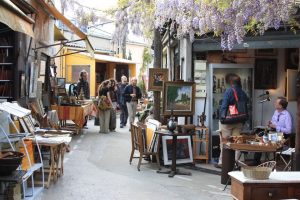 The history of the flea market dates back over two centuries, when rag and bone men scoured through the garbage of Paris at night to find valuable junk to sell on. They were called 'crocheteurs' or pickers. The romantic term was 'pêcheurs de lune' or 'fishermen for the moon'. Many set up their temporary stalls within the Paris walls in sleazy neighborhoods, but because these districts were full of pickpockets and thieves, they were chased out of the city walls to Clignancourt, Montreuil, Vanves, etc. The largest of these flea markets is the one at Clignancourt, but the other two continue to this day.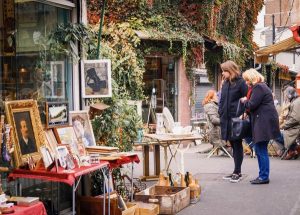 The rag and bone men gathered outside the walls of Paris at the Porte de Clignancourt and set up temporary stalls where they hawked their wares. Eventually, they formed groups of stalls to attract more customers. The more enterprising traders began to 'trade up' in terms of goods and eventually it became popular for Parisian collectors and antique dealers to shop there for bargains.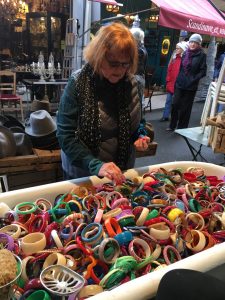 Today, when we arrived, it was almost overwhelming to take it all in.   Up one walkway, turn down another and round and round we went. Sometime hitting the same spot before realizing we were walking in a circle. If we had been trying to furnish or decorate an apartment it would have been a snap!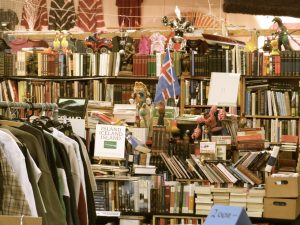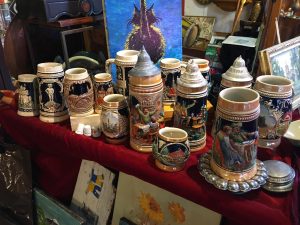 There were stalls with rugs, lamps, furniture, nautical items, clocks, lamps and lots of decorative items. Other shops had stacks of books,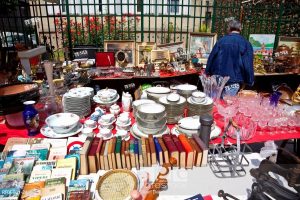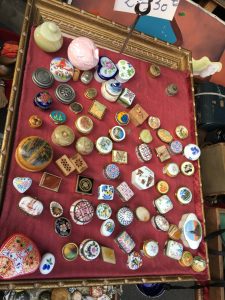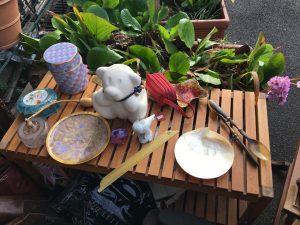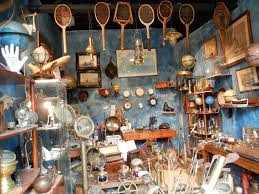 piles and piles of them others with stuff you would have considered trash and tossed out to the garbage but here it was ready for someone to see a need and pick something up from the pile.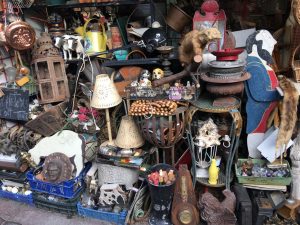 We left without buying anything but had enjoyable walkabout and will most likely wander back later during our visit.  After all, if we bought something, where would we put it and gosh we don't even have a home to put anything anyway. We might be back, who knows, and pick up the cow sofa.