Bourbon – Whiskey – stuff made in Kentucky that people drink a lot – that was the mission today. First stop, Jim Beam Distillery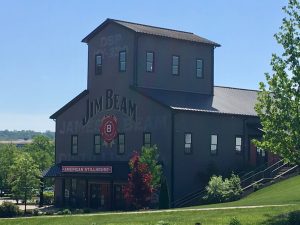 for a tour and tasting. Located just off interstate 65 south of Louisville is the place where they make a LOT of this bourbon. Our tour started at 9:30 and lasted about 90 minutes.   They have been making whiskey since 1795 – ok, there was a break because of that stupid law in the 20's – but basically continuously for over 200 years.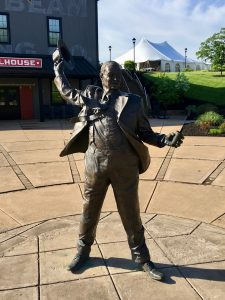 Here's the deal, we are not bourbon drinkers – scotch is more to our liking. However, the process is really very similar. Start with a "secret" mix of corn, rye and barley malt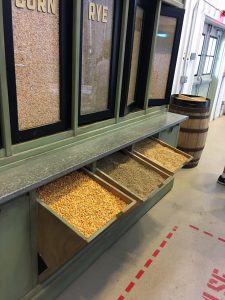 – add some Kentucky water and let it ferment for a while. The natural yeast of the barley creates the fermentation lasting several days.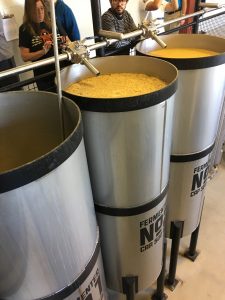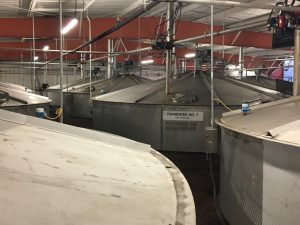 Once complete, the mix tastes like a rich beer. This beer travels into a 65-foot tall column still. Heated to about 200 degrees – enough to turn the alcohol into a vapor but not so hot that the beer boils. The vapor then turns back into a liquid. This resulting "low wine" is about 125 proof. From the column till, the low wine flows into a 'doubler', similar to a pot still, for a second distillation. When the vapor condenses into what's then called "high wine" it's less then 160 proof.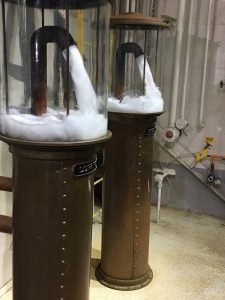 After distilling, the high wine is put into brand new charred oak barrels – always new and always American oak. The oak barrels are toasted to what is called an "alligator char" that is they are fired enough that the insides take on the scaly, bumpy look of a gator's skin.
The law in Kentucky says you have to age in barrel for 2 years.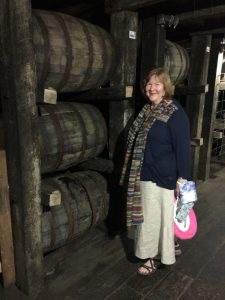 The basic "white label" Jim Beam that is sold worldwide gets aged for four years. Some barrels become 'special' and age longer resulting in different blends and labels and of course a price impact.
During the tour there was an opportunity to create your own bottle – well, not really, you got to "rinse" the bottle,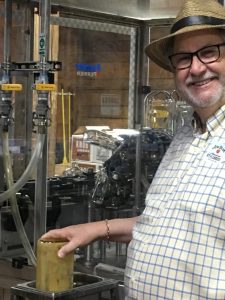 put it on the line for filling and then once filled and the wax installed you got to personalize the wax. This was on the single barrel line of the Knob Creek Bourbon. Needless to say I did this.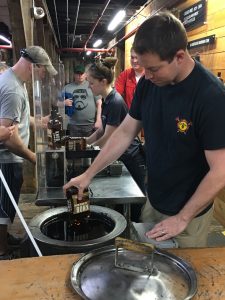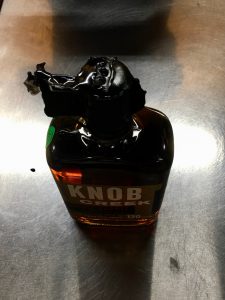 After our tour through the both the small batch processing buildings and through a portion of the big building we ended up in the tasting room where we sampled three different products.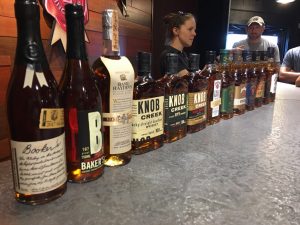 Janeen and I sampled several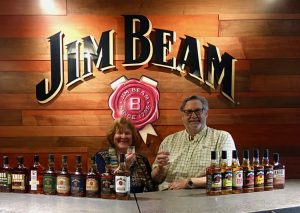 but decided the one we liked was Baker's. This is not for the faint of heart for sure, as it is 107 proof and according to our guide, Olivia, most like a scotch. This is small batch bourbon and aged 7 years. It is named after the grandnephew of Jim Beam. Janeen also liked the Basil Hayden's another small batch bourbon. Both of these could find it's way into our drink glasses.
Just down the road from Jim Beam is Forest Edge Winery.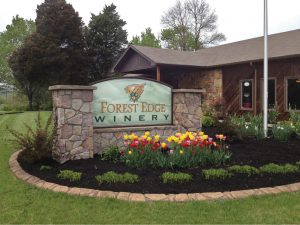 Sure, wine in Kentucky you say.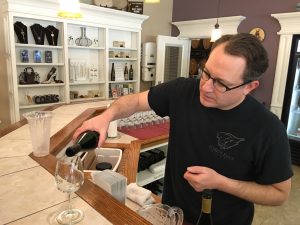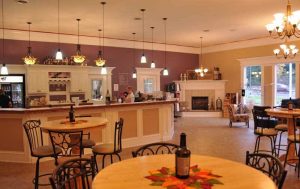 Well big surprise, they IMPORT all of the grapes from California, Washington and New York in refrigerated trucks. Wine was OK – nothing really special although we did pick up a bottle of the Rose for later consumption.
While at Forest Edge, we asked the guy in the tasting room, Josh, where else we might visit. He suggested stopping at Bernheim Arboretum and Research Forest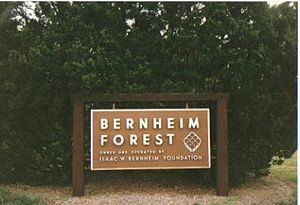 just down the road. We did, drove around the area and enjoyed the lovely forest, plantings and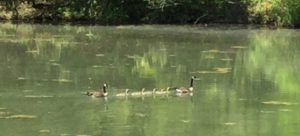 wild life. Founded by a German immigrant, Isacc Bernheim,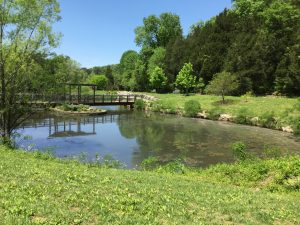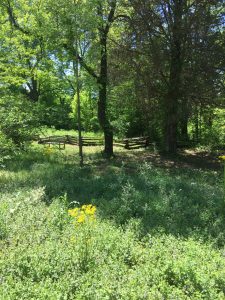 the place as been around for a while resulting in a 600-acre arboretum with over 8,000 varieties of trees, shrubs and other plantings.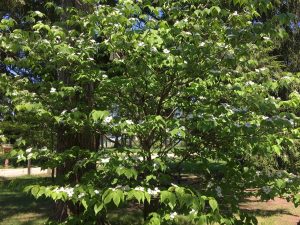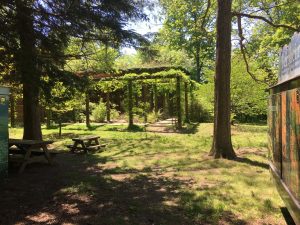 It was a nice break in the otherwise world of alcohol.